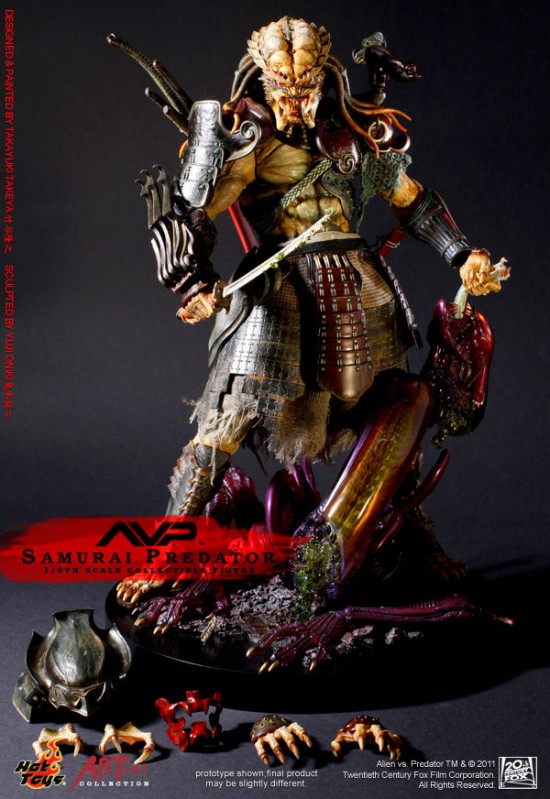 Hot Toys is proud to present the 1/6th scale Samurai Predator Collectible Figure inspired by the 2004 sci-fi movie Alien vs. Predator from the Artist Collection for Hot Toys series, a collaboration project with great collectible figure artists. This is the first entry in the Hot Toys' Artist Collection.
The collectible is specially designed and painted by Mr. Takayuki Takeya and sculpted by Mr. Yuji Oniki from Japan, featuring the Samurai Predator in warrior look, newly sculpted head and body with articulations, detailed accessories, weaponry and diorama base of Alien's corpse.
~Artist Collection for Hot Toys~
The 1/6th scale Samurai Predator Collectible Figure specially features:
Original Samurai Warrior design
Realistic 1/6th scale of approximately 14 inches / 35 cm tall
Over 22 points of articulations
Newly sculpted head and body
Interchangeable open and closed mandibles
Movable jaw
Fabric net on left chest
Fabric skirt
Two (2) pieces of interchangeable palms including:

One (1) pair of open palms
One (1) pair of holding palms
Weapons:
One (1) articulated left shoulder canon
One (1) broken sword with Alien cells
One (1) metal sword with sheath
Four (4) attached swords at the back
Accessories:
One (1) helmet
One (1) additional mouth mask
One (1) neck armor
One (1) set of shoulder armors
One (1) left chest armor
One (1) pair of forearm gauntlets with movable hooks on right side
Waist and thigh armors
One (1) set of leg armors
Extendable Alien tongue trophies on waist
One (1) severed Alien Warrior head trophy
One (1) diorama base featuring the Alien's corpse and broken sword piece
Release date: End Q2 2012
Artists:
Figure Designed & Painted by Takayuki Takeya
Figure Sculpted by Yuji Oniki
**Prototype shown, final product may be slightly different
Alien vs. Predator TM & © 2011 Twentieth Century Fox Film Corporation.
All Rights Reserved.