"I guess you either die a hero or you live long enough to see yourself become the villain."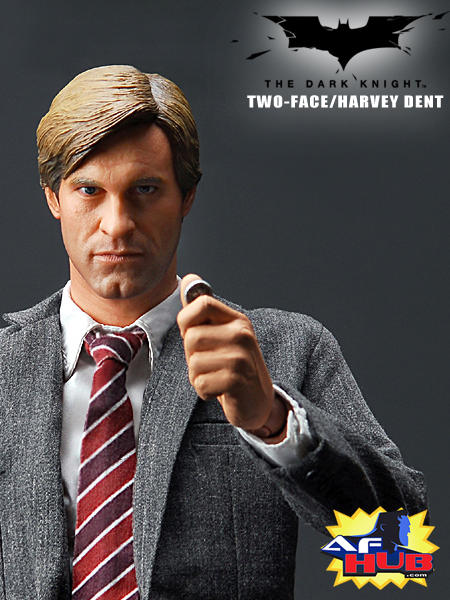 He likes tossing the coin to decide whether a person lives or dies!
Hot Toys is proud to announce the seventh collectible from The Dark Knight movie series – the 1/6th scale TWO-FACE/ Harvey Dent collectible figure. This figure stands approximately 12 inches tall and features more than 32 points of articulation. It also features:

Two-Face dressed in an accurate costume of the burnt suit, shirt, tie, pants and shoes, as worn by the character in The Dark Knight movie
Alternate head with authentic likeness of Aaron Eckhart as Harvey Dent
Interchangeable Harvey Dent's suit/jacket
One set of interchangeable hands
Pistol
A signature coin
12-inch figure stand with Harvey Dent / Two-Face nameplate
Artists:
Two-Face head – damaged/burnt side sculpted by an artist from the US & the Harvey Dent side sculpted by Yulli
Harvey Dent Head Sculpt by Yulli
Head Art Directed and Paint by JC Hong
TM & © DC COMICS.
WB SHIELD: TM & © Warner Bros. Entertainment Inc.
(s08)
Release date : end DEC 2008 – Q1 2009
This item will be imported into the US and Europe regions by DC DIRECT.
Please stay tuned on http://www.dccomics.com/dcdirect/ for official announcement in mid-end OCT 2008.