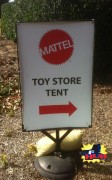 Once a year at Mattel's Headquarters in El Segundo, as part of their regular company store, they have their annual tent sale.  This sale typically runs from just after Halloween and runs until just before Christmas.   The sale is primarily made up of bulk overstock.  They used to do pop-up stores along with this in major cities like Dallas, Los Angeles and Chicago.  These would usually be in buildings where some other retail business had already closed and ran the whole month of December.  I believe that they have since stopped doing those pop-up stores.
Whatever items they put in this sale they always have a LOT of said item, like pallets full any given item.   At past sales there are always some oddities like Spanish language talking Elmos, unsold Star Trek Barbie and Kens, and various other kid's toys.   However if you don't like their selection that day, just wait a few days.  There are new shipments each day and it's a revolving door of product.
Occasionally there will be some collector gold in the mix.   The first year I went to the tent sale was 2006.   I got an amazing deal on the first waves of Disney/Pixar Cars.  They had a huge bin of them for $1.00 apiece.   I was able to get about 20 of them as I pawed through the 3 foot tall bin with 6 mothers.  All of us trying to see if there was one other rare car or something we hadn't found yet among the sea of Lightning McQueen and Maters.  At last year's sale I picked up the 1:24th scale 66 Batcycle for $12.00, because I heard you could sort of fudge the scale when it came to the 8″ DC Retro-Action figures.   It was marked $25, but there are always 50% off coupons for the Mattel store floating around.  That item is back again this year, but now marked $19.  Another new change this year was that they did not allow any coupons as part of the tent sale.
Last year there was some pretty good stuff when it came to what collectors like.  There were bins of JLU singles and DSIH singles, pallets of JLU Eclipso and Hawkpeople 6-packs, pallets of deluxe Dark Knight figures, pallets Infinite Heroes 3-packs and as you might imagine… almost the entire Avatar line.
This year, when I went with the Spy Monkey Creations guys, it felt a little lighter on product… which ultimately is good news for Mattel because that means they either a) guessed better on their manufacturing numbers and/or b) they sold more units of their products. Either way it looked as if they had less overstock on products this year.
The tent itself is in the back parking lot of Mattel's headquarters in El Segundo.   And, just like their year-round company store, it is open to the public.  While it is a "tent" and a temporary structure it's huge, solidly constructed and has things like electricity and a heater system in it.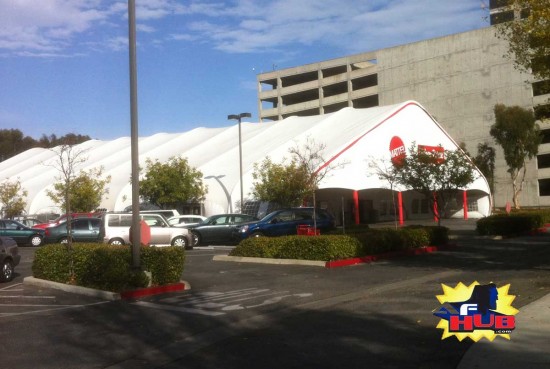 From the inside you can see the vast structure, and it's open, warehouse-like appearance.   It's always been busy every year when I go because there are always good deals.  This day however was a bit light.  As you can see in the picture below the tent is set up with just things on pallets and lots of room between "aisles."  It is set up like a store so there are carts and baskets that you can grab to carry your purchases in the store and 3-5 cash registers open at the front depending on the volume in the store.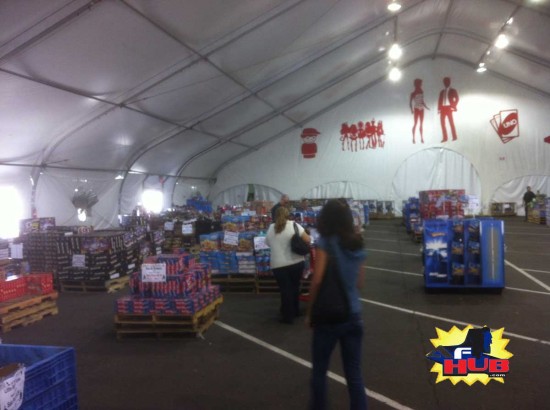 I took some shots of the collector items that you readers might be interested in seeing.  It was a bit of a hodge-podge this year.  There were several ToyStory 3 items such as their Action League figures and  that deluxe action figure line they sold.  and still some Dark Knight hanging around.   But then you also get weird things like Batman: The Brave and the Bold deluxe Green Arrow (JUST Green Arrow, no other deluxe figures) and an entire bin FULL of the not released DC Infinite Heroes gold "Kingdom Come" costume Captain Atom.  That Captain Atom was supposed to be a Toys R Us exclusive and even have a "Toys R Us Exclusive" sticker on the front of the bubble… that has now been covered up by a plain white sticker.   These showed up on occasion at the regular Mattel company store, and I've heard a few trickled out into discount stores like Ross and T.J. Maxx.  But THIS  was the mother-load of them!
Not the most exciting batch of stuff this year, depending on what you collect.   But there's always next year!
About the Author: Julius Marx
Daniel Pickett (a.k.a. Julius Marx) is the founder of Action Figure Insider - the best toy news on the web.