I have recently been granted a rare opportunity to do a Q&A session with Yulli – in the hopes of getting to know a little more about the talent behind several of Hot Toys' great sculptures.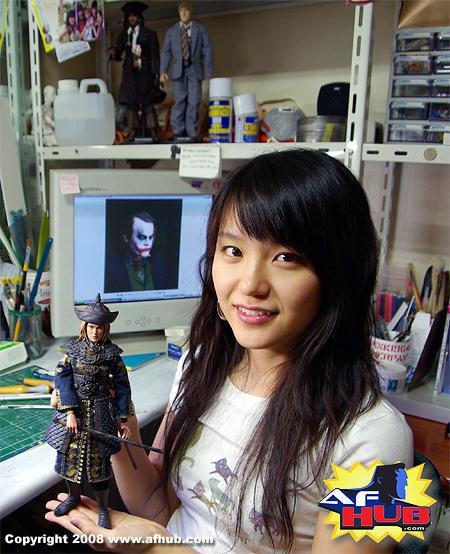 For the small number of action figure collectors who haven't yet heard of her name, Yulli is the chief sculptor behind Hot Toys' very successful series of 1/6 scale figures based on several hit movies including The Dark Knight, Iron Man and Aliens vs. Predator.
Her work on the upcoming Bank Robbery Joker (unanimously voted by collectors as the best TDK Joker head sculpt) and Harvey Dent Two-Face are highly anticipated. Just take a close look at some of her sculpting and one will understand why she and Hot Toys are such household names among the 1/6 community.

And now, on to the questions…
Where are you based?
Seoul, South Korea
What's your education background (which university did you go to? what's your degree? are you an art major? etc.)
I graduated from HONG IK University.
How long have you been sculpting?
About 10 years. I started to sculpt 1:1 scale statue from the beginning, but in past 3 years, I've been focusing on 1:6 instead.
As a kid, what did you want to be when you grow up?
sculptor, artist, designer
When did you join the Hot Toys team?
Jan of 2007.
What is your current title/position?
Chief sculptor.
What were you doing prior to joining the Hot Toys team?
Sculpture teacher in high school.
Where is your current base of operations?
My own workshop based in Seoul.
How did you get into the field of sculpting?
I used to teach high school students sculpting. I was looking for a freelance job related to figure headsculpt when I was in vacation from university. And then I met some kind people who producing 1/6th figure. I realized more about 1/6th figurine products and the relative works from that time.
To date, how many figures have you designed/created?
About 30 pieces, as I've started sculpting figure head before I join Hot Toys.
Of those figures, which one is your personal favorite?
Joker. I usually use my latest job as my answer for this question. Because every time when I look at my previous work, I realized that they are not perfect enough.
Who has had the greatest influence on your work?
He is JC Hong who is recently working with me in Hot Toys. He has great passion and demand on his work, and these gave me challenges. Also, he has very good sense on sculpture, and gives me advices and opinions.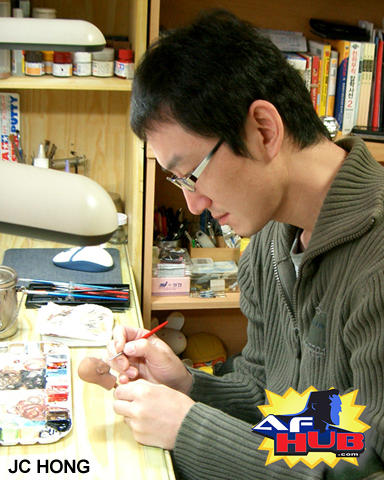 What would you say is the hardest part about your line of work?
Combine the face sculpture and expression.
With the many different renditions available, how do you decide on the most appropriate look when designing a character?
I'll leave this question to Hot Toys, because this is not my personal decision.
If you can to choose to re-do/re-make any toy/figure from your early years, which one would that be and why?
I'll pick the Prison Break brothers. They are my first job in Hot Toys. Their sculptures were too simple and less details compared with my recent works (like JOKER etc) As they are popular items, so I wish I can re-do both of them.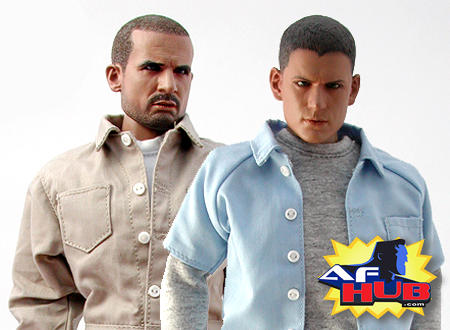 What is your favorite toy from your childhood?
I used to play with "paper doll" when I was a child. I drew people/figure, clothes and accessories on cardboard, then cut them out and play with them.
What did you think of the movie The Dark Knight?
A tense atmosphere could be felt in The Dark Knight movie. All characters are charming and unique.
How long did it take you to work on The Joker's head sculpt?
I have worked 3 heads and 1 mask for Joker. As I was working on other projects in the same period, so I don't know the real timing. But I usually take 2-3 weeks for each head.
Without revealing any trade secrets, how was the look of the TDK Joker achieved?
Before the movie released, I look up the movie poster and still photograph from Hot Toys to study his make up. Also I watched some Health Ledger's movies for face sculpture references.
What was the hardest part about that particular project (TDK)?
I have to pay more effort on the first Joker figure as references were so limited. The most difficult part is to make a character who has too much make-up.
The Bank Robber version of joker was created after I've watched the movie, it is much better than the normal version because I've input the characteristic of Joker, especially his mad performance.
Please tell us how Machiko (She Predator) was conceptualized.
The concept was created by Howard (Chan) and designed by Joseph (Tsang).
Which character would like to be given the chance to sculpt professionally?
Wonder Woman.
What advice can you give beginners who might want to follow in your footsteps?
I'd advise beginners to study in anthroponomy (Frame and muscle), and develop sense of 3D proportion. They can describe the sculpture very well if they have such basic knowledge.
My sincere thanks to Yulli for taking time out of her very busy schedule to indulge us.
Special thanks to Germaine of Hot Toys for helping make this interview possible.