Hot Toys is proud to announce a brand new product line – HOT ANGEL, featuring sexy female characters in highly detailed outfit. The debut character for this new line is SHE PREDATOR – MACHIKO.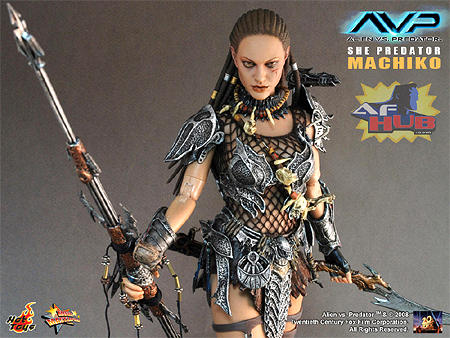 SHE PREDATOR – MACHIKO is an original character designed by Hot Toys, inspired by the female character from the AVP comics.

Story behind SHE PREDATOR – MACHIKO project:
With the impact of the first AVP movie, Hot Toys continues the mission of the character- LEX and developed SHE PREDATOR – MACHIKO. MACHIKO is configured as a Human Warrior, recognized by the Scar Predator, who giving her the scars on her face, mask and ALIEN head featured shield. Given the Predator's strengths and weapons and following the mission of Predators, SHE PREDATOR- MAHIKO guards and fights against ALIENS… THE STORY- TO BE CONTINUED …
This full geared SHE PREDATOR – MACHIKO stands approximately 30 cm tall, features a NEWLY developed Hot Toys female body with over 20 points of articulation, and a fabric net body suit with detailed armor. It also features:
Weapons:
one articulated shoulder cannons
Extendable spear
Closed Shuriken
Wrist blades
Accessories:
Predator mask features with warrior scar
Sword with sheath
Skull necklace
Neck Wrap
Alien head featured shield
Each model comes with Predator skull featured display base.
NOTE: Some simple assembly required
Release date: Q3, 2008
Artists:
Character Concept by Howard Chan
Character Design by JOSEPH TSANG
Armor and Accessories Sculpt by JOSEPH TSANG
Head Sculpt by YULLI
Head Art Directed by JC HONG
Alien vs. Predator TM & © 2008
Twentieth Century Fox Film Corporation. All Rights Reserved.