Let's face it, for most of us, this time of year means spending time with family, eating great dinners made by mom, and really cool new toys.  I remember waking up Christmas morning, and shaking all the presents, trying to find out which ones were the toys I'd asked Santa for.
Christmastime today really isn't all that different.  Even though we're adult collectors, I still get excited for the cool new stuff that always seems to get released just in time for Saint Nick to deliver them.That said, here's a look at some of the toys I'm most looking forward to this year.
Hot Toys Iron Monger
"Impressive!  You've upgraded your armor!  I've made some upgrades of my own!"
-Â Â Â Â Â Â Â Â Â  Obediah Stane
The biggest & baddest Hot Toys figure ever was worth the wait – and the price!
SH Monsterarts King Ghidorah
"Ghidorah is a space monster.  The monsters of Earth cannot win."
-Â Â Â Â Â Â Â Â Â  Leader of the Kilaaks
The crown jewel of the SH Monsterarts line, this is is not to be missed.  This line is like crack to Godzilla fans, and no Godzilla toy line would be complete without his arch enemy.  Seriously, there are like 75 points of articulation.
NECA Rocky 2 Pack & Wave 3
"They look like they've been in a war, these two."
-Â Â Â Â Â Â Â Â Â  Stu Nahan
This is one of my favorite lines to collect.  It's about time someone did Rocky justice, I just hope there are more figures in the future, and I'm not taking about Frank Stallone or the side of beef.
NECA Battle Damaged Predator 2 Pack
"If it bleeds, we can kill it."
-Â Â Â Â Â Â Â Â Â  Dutch
NECA's Predators line is another one of my personal favorites, and this new two pack gives us an updated Jungle Hunter Predator with some battle damage, upgraded paint work, and greatly enhanced articlulation.  The New City Hunter includes rebreather, removeable left forearm, and is covered in that Predator antifreeze blood.  The included skulls are just a cool bonus.
NECA Prometheus Engineer vs. Trilobite 2 Pack
"Big things have small beginnings."
-Â Â Â Â Â Â Â Â Â  David 8
The climactic battle is faitfully reproduced in this cool two pack, and it's an unbelievable value.  The Trilobite is huge, and costs out for the same as a regular carded figure.
NECA Quarter Scale Gollum/Smeagol
"You were not so very different from a Hobbit once."
-Â Â Â Â Â Â Â Â Â  Frodo Baggins
This figure is a dark horse for figure of the year, with translucent skin plastic, real hair, and super articulation.  Don't blink, or you'll miss this one, as they're selling fast in my area.
Miracle Productions Die Cast Vehicle Voltron
"Let's go Voltron Force!"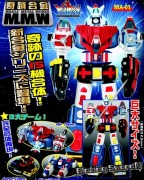 Due for release any day now, this long-awaited import fills a very big hole in the collections of all Voltron fans.  I hear these were produced to meet pre-orders, so don't expect him to hang around for very long.
As always, it has been my pleasure and priveledge to be able to connect with fans and collectors throughout the world this past year.  I hope everyone has a peaceful and safe holiday season, see you all in 2013!
Steve "Captain Collector" C.
About the Author: Captain Collector
A veteran member of the toy journalism community for more than ten years, Steve "Captain Collector" Ceragioli has been an avid collector for four decades. Known for his honest reviews and vivid photography, he has written for some of the most prestigious action figure sites on the web. As a collector, Steve can often be found at local retail stores, hunting for the latest releases and meeting fellow collectors. Steve collects many of today's hottest toy lines, and he has a massive collection of vintage toys and knowledge. Cap brings a deep passion for the hobby along with him to AFHub!