Here's the latest Cosbaby Series from Hot Toys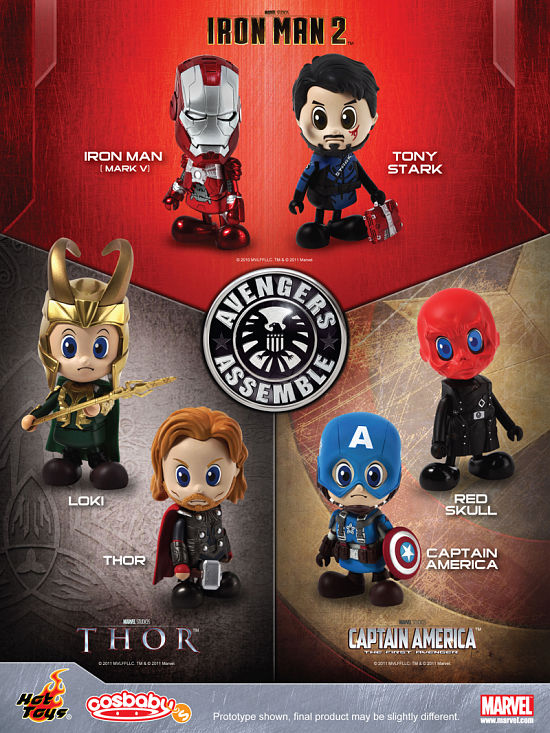 To celebrate the launch of The Avengers movie from Marvel Studio in 2012, Hot Toys is proud to present the Marvel Avengers Assemble: Cosbaby (S) series from the well-received superhero characters of the Iron Man 2, Thor and upcoming Captain America movies in view of their popularity.
Each cosbaby stands approximately 3 inches / 7 cm tall, featuring your favorite movie characters in baby forms and their unique designs in special format.

Marvel Avengers Assemble: Cosbaby (S) Series specially features:
Designs inclusive: 6 unique designs
Product Code / Bar Code
Thor – COSB113
Loki – COSB114
Captain America – COSB115
Red Skull – COSB116
Iron Man (Mark V) – COSB117
Tony Stark – COSB118
Set of six – COSB113-118
Special features:
**Snap kits with joint articulations
**Amazing detailed accessories
Note: Simple assembly is required.
Packaging : Blister card
Release date: Q3, 2011
**Prototype shown, final product may be slightly different
© 2011 MVLFFLLC. TM & © 2011 Marvel Entertainment, LLC and its subsidiaries. www.marvel.com. All rights reserved.
© 2011 Hot Toys Limited. All Rights Reserved.