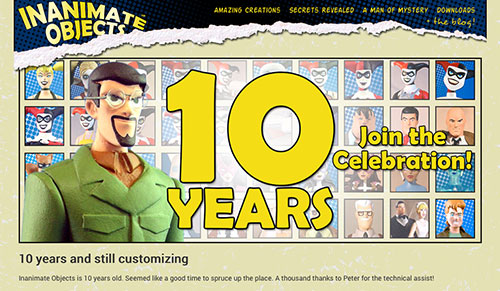 Ten years. It's been over ten years since Inanimate Objects launched. So much has changed in this world. And yet so much remains constant.
I've been customizing figures and toys, in one form or another, all my life. When I was a kid my dad would help me make Mark's bird-a-rang things from Battle of the Planets out of cardboard.  I acquired extra Drednoks so I could mix and match their parts and make new characters. (That damned enamel paint never dried!) I made a more effective Death Star trash compactor, and bases for Cobra and the Autobots.  It's just always something I've done.
Of course, we didn't call it customizing back then. I first formally recognized a custom when I saw a vintage-style Star Wars Biggs Darklighter on a blister card in a now-long-defunct toy collectors' magazine. This would have been around 1992 or so. Shortly after that, I encountered a custom Harley Quinn by Scooter in another magazine. (Read that whole story here.)
Seeing Scooter really lit a fire in me. I dove head first into Batman customs, and later Star Wars customs when the line was re-launched in 1995.
By 2003 I had accumulated quite the collection of one-of-kind pieces, and something of a reputation for accuracy and education. At that point, my work had been online for a few years, but I did not yet have a home to call my own.  That time had come.
The first design was pretty primitive, design-wise and technical-wise, but it served its purpose. It harkens back to an older, more adventurous era. In fact, the Inanimate Objects logo itself owes more than a little to Indiana Jones.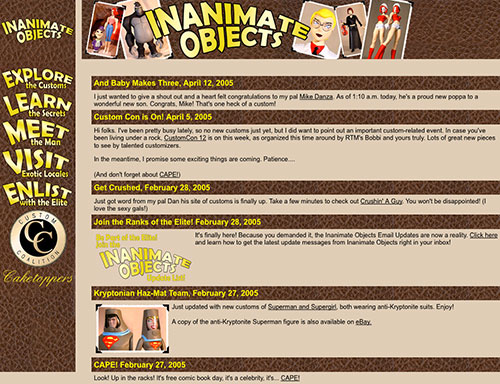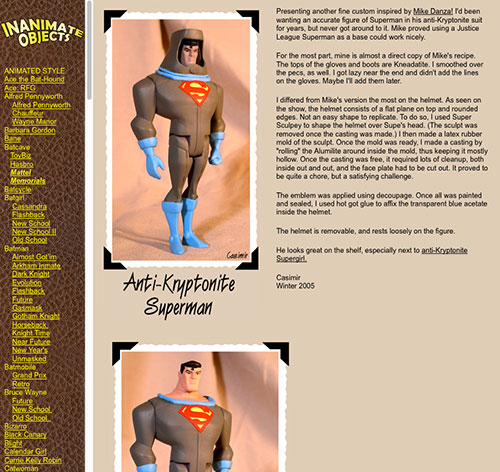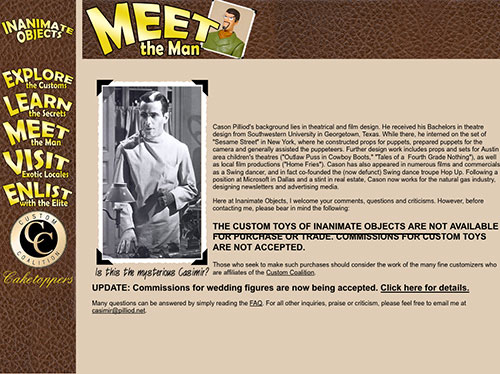 In 2005 I was framing on old, beat up copy of Detective Comics #247 that had belonged to my father. (It was one of the few remaining comic books from his childhood, as my grandmother, with the best of intentions, threw the rest out decades ago.) This ragged comic managed to inspire me with its simplicity and roughness, and that led to the second design of Inanimate Objects. The comic book motif seems like a good fit for the subject matter anyway.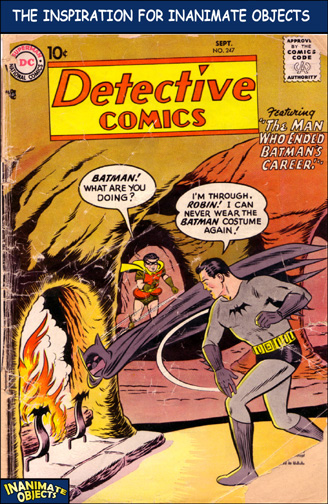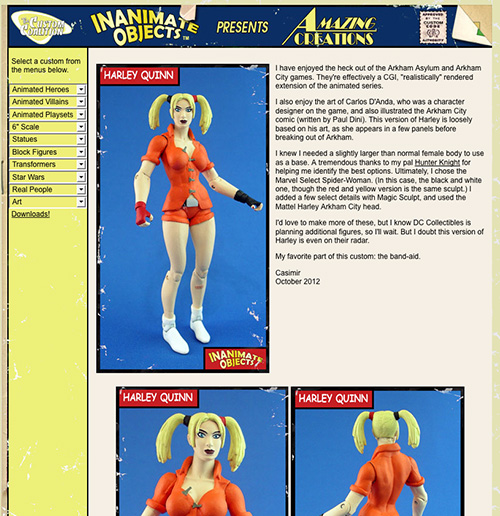 This version served me well for several years. I modified it a few times, making technical improvements where I could using my limited knowledge. At some point, though, I realized that I wasn't posting new material as often as I'd like because doing so was a pain! Everything on the site required manual input, and it was slowing me down. Enter the wizard known as Peter Go, proprietor of this very site.
Peter and I had worked on a handful of previous projects. He'd ask me to contribute a blog to AFHub (which is what you're reading!), and he didn't shy away when I asked if he'd join me in setting up DCAUComics. I approached Peter asking if he could help me remake Inanimate Objects such that it was easier to maintain. I wasn't really looking to reformat or redesign the site, just get under the hood and beef up the engine.
Famous last words. Peter readily agreed, but he's a sly devil! He sent me links to some fairly cutting-edge sites, as if to say "Look how interesting this design is. Wouldn't it be cool if we did something like that?" Needless to say, a simple technical upgrade was now overshadowed by a complete re-build and re-design. And Peter was right.
I'd like to take this opportunity to publicly thank Peter for all his hard work, and for convincing stuffy old me to try new things. I couldn't be more pleased with the new site. He really opened my eyes to new ways of seeing things, web-wise. Plus, he's one of the kindest, most courteous souls I've encountered out here in the wilds of the interwebz. Peter, I doff my hat to you sir.
Thanks also go out to friends and collaborators: Stew, who has done more to share our little hobby with others than anyone I've know; Glassman who pushes the limits and inspires; and Tyke for the many years of friendship, the funny, and just for being Tyke. Oh, and thanks to my wife and son, for letting daddy play with toys.
So please take a moment and visit Inanimate Objects. I haven't had time to create much in the way of new customs, as I've been busy with the site itself. But there are a few re-shot photos, and some older, interesting items that turned up in my search of the Inanimate archives.  See old favorites, and maybe find cool stuff you missed.
Here's to ten more years!
About the Author: Casimir
Not satisfied with the limited options available at retail, award-winning customizer Cason Pilliod has been crafting his own toys since he was a child. His passion for toys merges with his background as a theatrical prop designer, allowing him to find unique customizing solutions, which he shares with the ever-growing customizing community via Inanimate Objects. Cason is also an armchair pop-culture historian, Swing dancer, DJ, daddy, and was once a Muppet wrangler, so he's got a unique spin on life. He also worked for Microsoft once, but let's just keep that a secret.