Anyone and everyone who dwells in the realm of collecting action figures has got to know ActionFigureInsider.com (AFi). But what is probably not known to some is that the site which many of us have made our daily stopover for our action figure fix was developed some 4 years ago by two guys named Daniel Pickett (a.k.a. Julius Marx) and Jason Geyer (a.k.a. ToyOtter) – 2 guys I've been privileged to call my friends.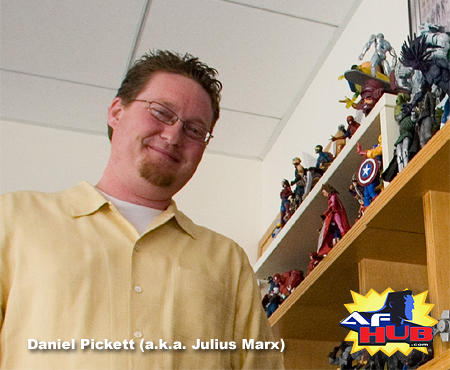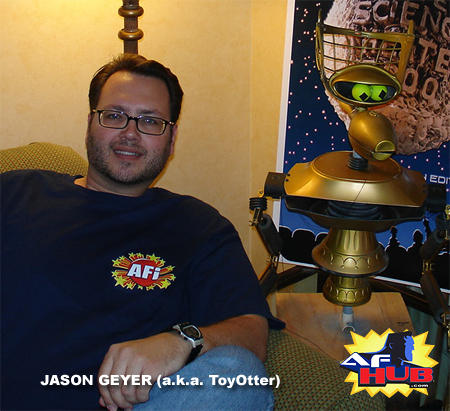 Today, I'm posting the first of a 3-part interview with the guys behind ActionFigureInsider.com. This first installment focuses on the two as toy collectors like the rest of us.

Let's get some basic background info on you guys.
Full Name
Julius Marx: Daniel Pickett
ToyOtter: Jason Geyer
Age
Julius Marx: 37
ToyOtter: Late 30s
Location
Julius Marx: Southern California/Los Angeles
ToyOtter: Dallas, TX
Your "Day Job"
Julius Marx: Facilities and Corporate Services Manager – Electronic Arts Los Angeles and Paige's Dad.
ToyOtter: Promotional Marketing / Creative
When did you start collecting action figures?
Julius Marx: I've really sort of always collected. It started when I was a wee lad back in the early 70's with Mego's World's Greatest Super Heroes, Micronauts, Shogun Warriors and then into Star Wars. There were two years, my Jr and Sr. year in High School that I DIDN'T collect. Then in 1989 the first Burton Batman movie came out, and after that I was back in. I started buying the Toy Biz Batman line, then the Hasbro Batman: The Animated Series line, and then the Playmates Star Trek line…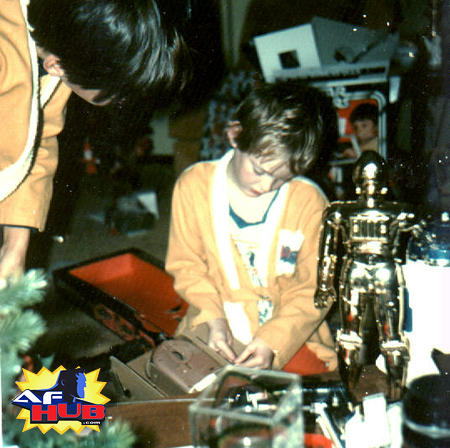 ToyOtter: In college. A friend of mine was going through some old boxes of mine and found a Super Powers Green Lantern a friend (who had recently passed away) gave me when we were in Middle School. I didn't want to give it up, so we went to a flea market to find him one and discovered that you could buy all sorts of old toys for really cheap! Especially Star Wars toys! (This was in 1990)
What lines do you collect? And why? (please give a short reason for each toy line)
ToyOtter: Right now, just DCUC. I was on the verge of quitting altogether, but the Four Horsemen have done such a stellar job that I find myself drawn back in for this one line. And as a Super Powers fan, this line is literally what I've been waiting for for nearly 20 years.
Julius Marx: I think I might collect TOO much to do the short reason for each. Here goes:
Classic Star Wars
Vintage Star Wars
Some GentleGiant Star Wars
Super Powers (loose, carded and custom)
DC Direct 6.5″
DC Direct 13″
Batman Black and White Statues
Justice League Unlimited
DC Universe Classics
DC Infinite Heroes
Super Friends
Doctor Who
Marvel Legends
Marvel 12″
Marvel Legends Icons
Marvel 3 ¾"
Famous Covers
Superman figures
Muppets
Indiana Jones
Disney/Pixar's Cars
Toy Story
Battlestar Galctica
MiniMates (Marvel, DC, BSG, misc)
NECA's TMNT
What was it that brought you to collecting?
Julius Marx: I really just feel like I have always collected. I blame it on my grandmother: http://www.actionfigureinsider.com/marxblog/?p=45
ToyOtter: Realizing that I could buy all the Star Wars toys that I had as a kid, and more importanly, all the ones I never had.
And what is it that keeps you going?
ToyOtter: It snowballed from there.
Julius Marx: I have no idea. At times I wish I could turn it off. I have a LOT of stuff.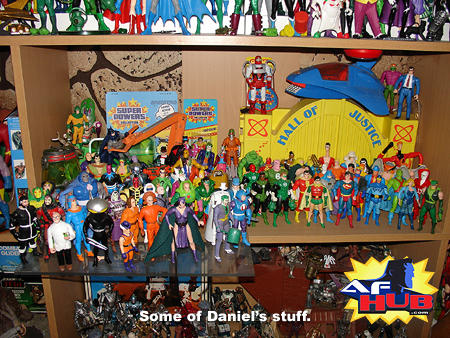 Which item in your collection would you say is your absolute favorite and why?
Julius Marx: Hmmm. That is a TOUGH one. I'm not sure I could narrow it down to just one thing.
I have some cool one of a kinds and rare items. Remember when Marvel Legends was FIRST announced at SDCC? It was just Jesse Falcon at a table with a Hulk prototype. I have THAT Hulk, and it's signed by Phil Ramirez and Eddie Wires (the sculptor and painter).
I have two of Tim Bruckner's original wax head sculpts for Jean Gray and Magneto from the first X-men Movie line.
I have one of the 100 JLU Holiday Hal Jordans.
I have some cool Customs that I LOVE by Iron Cow, Airmax, Casimir, Double Dealer, etc.
I have an output of a scan of myself from the guys at Gentle Giant.
I think my favorite things are things I have born out of the relationships and friendships that I have formed in the industry.
ToyOtter: No one favorite. One of my favorites is my Medicom Rocketeer, just because I like the character design. And my GI Joe Bob Hope!
Holy Grail – what's yours?
ToyOtter: Nothing. There isn't a toy I feel I need.
Julius Marx: I still need to find a carded Cyborg from Kenner's Super Powers line. That's the only carded SP figure I'm still missing. I have a nice carded Super Amigos Cyborg in his place right now, and I have a mint loose one. I also need Golden Pharaoh's staff.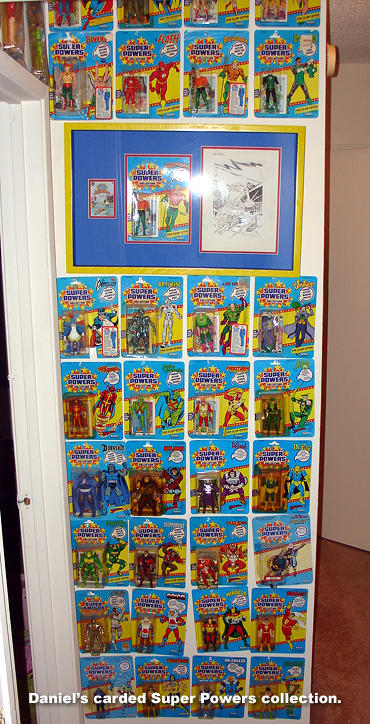 How do you display your collection?
Julius Marx: I try to display as much as possible in my home and my office at work… but there's still a garage, a storage unit and my parents attic FULL of stuff I can't display right now. I used to have a dedicated toy room 3 houses ago. *sigh* Someday…my collection shall rise again.
ToyOtter: Boxed away in a closet. A few choices pieces are in a glass case from Ikea, such as some DCUC, Star Wars, and Super Powers along with my Tomy Disney figures and assorted 12″ figures of "real people". I also have all my Funko ad icon Wacky Wobblers in a cd case.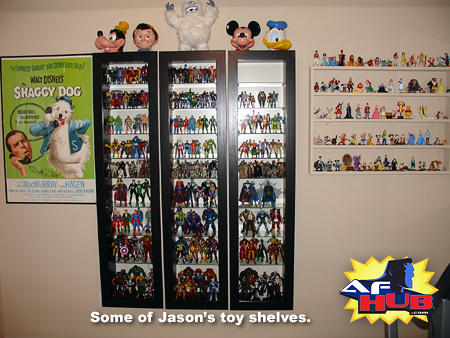 How do you decide which items to open and which ones to keep mint-in-package?
ToyOtter: I don't keep anything packaged.
Julius Marx: I open almost everything. There are some rare things and variants I will keep in the package, but most everything thing else I open. Everything I open I take pictures of (carded, loose and turn-around) with the hope of putting it ALL up on AFi at some point.
I only have time to do that about once a week so there is a HUGE back log of stuff I'm still waiting on to photograph and open.
Where do you do most of your toy purchases?
Julius Marx: Target. There's one within walking distance of my house now, so I'm there all the time.
ToyOtter: At Target or Walmart while shopping for everyday items. I don't toy hunt anymore.
What's the first thing people tell you when they see your collection?
ToyOtter: People don't see my collection. I keep it well hidden. ;) But in general, they've found it to be neat.
Julius Marx: It's a 4 way tie as to what people say first.
"I've never seen a collection so large!"
"How do you dust them all?"
"My boyfriend/kid/cousin/nephew would love this!"
"You must HATE earthquakes."
What does your significant other say about your hobby? Has it ever been a problem explaining things to her?
Julius Marx: It was a problem for my ex-wife. She just didn't think adults should collect toys. But my girlfriend Abby loves it and helps me out with the site and con coverage! She's the one that shoots and edits all the video content we have done for the site for the past 2 year, including those fake DCUC commercials. And she buys me toys! Ya can't beat that!
ToyOtter: Don't got one right now (probably because I own thousands of toys). My dogs like them just fine. Like to chew on them, that is.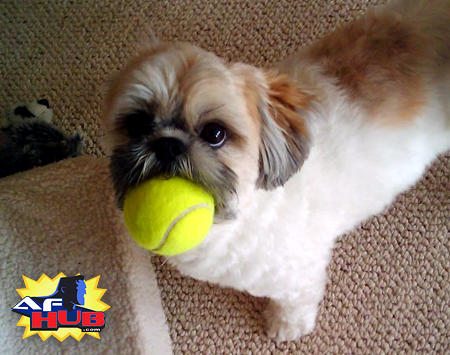 What's the best and worst part of this hobby?
ToyOtter: It never ends. (same answer for both)
Julius Marx: I think this answer changes from year to year. For me the best part of the hobby and running AFi is getting to meet and talk with like-minded collectors from all over the world.
The worst part… It's TOUGH collecting in Los Angeles. It sometimes is a full contact sport! I know people throw around the term "scalper" too much, but here in LA because of the twice weekly "Frank and Son's" toy show and the monthly LA SCI Fi Comic Con shows they REALLY are a tangible problem. Why should I pay you more for something you picked up from the Target by my house and then took 40 miles away for the privilege of me buying it there at a mark up? Just leave it there. I'll pick it up myself, thank you very much.
Apart from action figures, do you collect any other toys/items?
Julius Marx: I have a really LARGE music collection as well. I also have a fair amount of antique sports equipment… even thought I don't really play any sport.
ToyOtter: A few maquettes, ad icons, select Urban Vinyl…
Tomorrow, we'll be talking to Daniel and Jason about their roles as the founders of AFi.