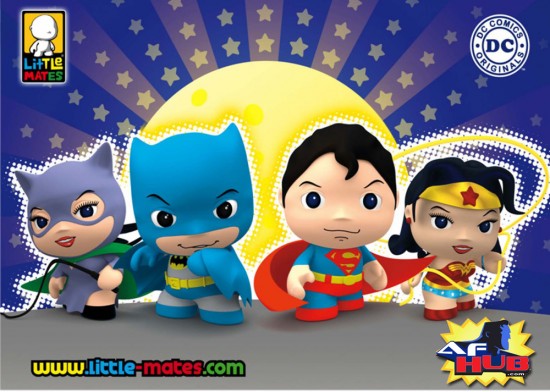 About a month ago, fellow toy collectors Jim Abell and Ben Leyer were discussing on Action Figure Insider about a foreign toy line called Little Mates. Photos Jim posted of the toys caught my attention. And being the on-again-off-again impulse collector, I felt that this was a toy line that merited switching on said impulse in me.
The company behind Little Mates is based in Barcelona, Spain and I reckon their DC license limited the sale of these toys to their own geographical territory. Tough! I just wasn't going to get drawn back into eBay. So I took a chance and inquired about the possibility of getting a set directly from the company. I did not hear back from them until after about a week or so – and with good news to boot.
So early this week, I received in the mail a set of the 10 figures they graciously sent my way. Here they are in their individual packaging.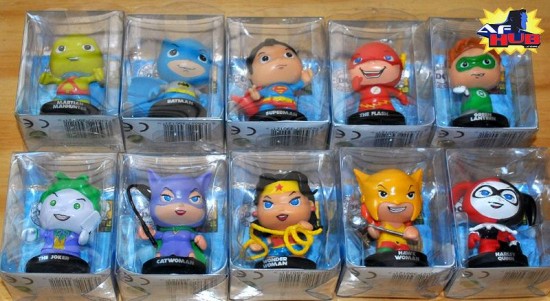 The set includes:
Batman
Catwoman
Green Lantern (Hal Jordan)
Harley Quinn
Hawkwoman
Martial Manhunter
Superman
The Flash
The Joker
Wonder Woman
Each figure comes in a rigid transparent plastic (not unlike what florists use) inserted with a paper backdrop bearing the Little Mates logo. Each character comes with a base with the character's name clearly printed on the front side. The figures measure approximately 2 inches tall sans the base.
"Cute," if an adult collector may be permitted to use the word, is somewhat of an understatement. These critters are so "cute" that I find myself smiling each time I look at these. It's truly been a long while since I've found a toy line that made me do that (and even write about it). In spite of the miniscule size, I think collectors wouldn't mind having some cute Little Mates adorning their toy shelves.
For now, I think eBay is the only avenue by which my fellow toy geeks can obtain these (short of booking the next flight to Barcelona, that is).
Stay tuned for I will be posting at least one more write-up on this toy line with more photos and possibly a short review. Yes, I'm that giddy about the line :)