An introduction is in order. By the time I hopped onto the internet in 1997, I had already been "customizing" as we now define the hobby for a few years. In 1998, I discovered other people were doing the same thing, sharing information via the 'net. One of those early pioneers to share his work was the mighty and talented Bill Burns. The man could create flawless figures from seemingly nothing! His work was a tremendous influence on customizers of all scales and styles, but particularly to those of us working in the animated DC "Timmverse" style. Even if you're a customizer living under a rock and never heard of Bill, chances are you've seen his work and been influenced by it, or been influenced by someone else who was. I am honored to have known Bill for many years now, and thank him for participating in this interview. So, without further ado, I give you… Bill Burns! 
First, what's your secret identity? What does Bill Burns do when he's not customizing toys?
I am still dating my wife of 22 years, have the greatest son ever that is starting his senior year this year. (Gasp.)
I am currently working as a store artist for Trader Joe's. When I'm not doing that, I'm trying to drum up freelance work, historically reenacting, hitting the gym or watching a lot of the History Channel, damn exciting stuff.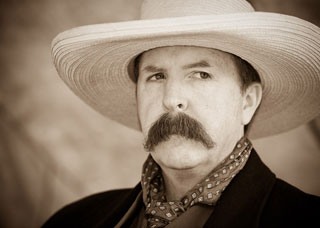 Did you collect toys before you started customizing? Since when?
I go all the way back to collecting the old Mego superheroes line from the 70s. I had them all as a kid, even the Batcave, wish I had kept them, I could have bought a small island with how much they going for now.
I didn't pick up collecting again until just after college, starting with a lot of the 5" ToyBiz figures and picking up Super Powers figures along the way. That all changed when the Timmverse came along with the Batman Animated Series and later JLU.
When and how did you start creating customized figures? Who or what was an early influence?
Back then I didn't have any influences because the internet was just finding its legs. I did pick up 'Wizard' magazine every month then and was always checking out the 'Homemade Heroes' section and saying to myself, 'I could do that', so around the Summer of '97 I decided to try a Superman in his 'electric blue' pajamas, a real simple first one, no head swapping, minor sculpt work and I was pleased with how it came out. My main motivation after that was to do the entire Golden Age Justice Society which I set about doing. I was really on a tear with those customs. I could not wait to see them on my shelf.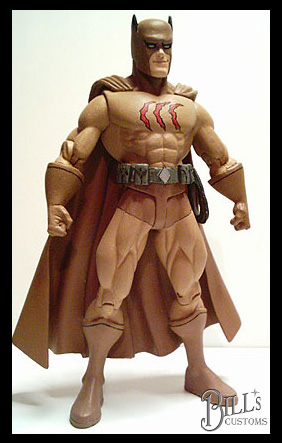 What motivates you to tackle a specific character in a specific style?
The big incentive was putting characters on my shelf that were not being produced, I started out doing the 5" comic book style and then quickly got into animated style, which also back then was only the Batman and Superman animated series, so there was a ton of characters to be made as customs and I went for it.
Animated Style is still my favorite, the challenge then was to think "how would Bruce Timm make this character look?" Another motivation was when I would get commissions from folks who had original characters who wanted to see their creations in the Animated Style.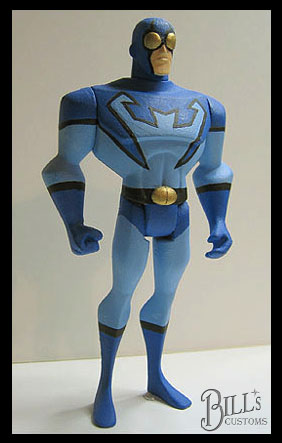 Your work is often sited for your sculpting talent and accuracy. Do you have a previous background with sculpting? Do you have a particular method or medium you prefer?
Nope, no real previous sculpting experience, just dove in and did it. I am a bit of a perfectionist so that is probably what brought that skill on.
I first started using Milliput putty which I loved for its excellent smoothness when you sand it, but it started getting harder to find. I currently use Apoxie Sculpt which is equally as good and is easy to find.
I use a Dremel tool, Xactos, and super glue of course but, the best tool I have is a Flexi-File for sanding, I can't really explain it, so you'll have to look that one up kids.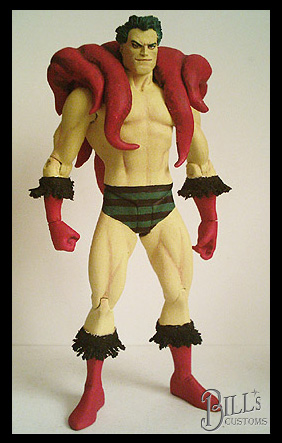 Do you prefer sculpting/shaping/assembling a figure, or painting? Why?
Painting is my favorite stage in the process, the figure just really starts coming to life for me.
What is your favorite aspect of customizing? Least favorite?
Favorite is painting of course, the least would have to be getting the sculpting to transition smoothly with the existing base figure's parts, lots of sanding and running a finger across it so it feels smooth all the way through. It's got to be perfect or it will definitely show up at the paint stage.
Your paint jobs are always renowned for their quality. What is your preferred paint and/or method?
I prime the figure first, just your basic white enamel from Ace hardware. Sometimes a second sanding stage is called for. Priming will give you a chance to see where your sculpting needs to be touched up a little.
I use acrylic paints, lots of Delta Ceramcoat. If there are logos and costume lines I pencil them in on the primed figure, I was blessed with a steady hand for that.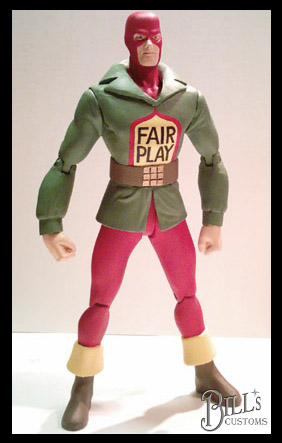 You've stated that most of your custom works now are commissions. Do you still tackle projects for yourself? Do personal projects and commissions ever conflict or dovetail?
I'll be honest, since the economy tanked the commissions pretty much dried up, for me at least, and the few I did get recently the jackasses didn't pay. I have always thought there was a "gentleman's (& ladies) geek honor code" when I did commissions, and for over 10 years it was good, they wanted to see their favorite characters made and they paid up for them.
Commissions also began to slow as the JLU line kept expanding of course, which was nice to see, but not the commissions going away.
I have not done any projects for myself for a couple of years. The action figure industry is finally producing a lot of the characters that I have wanted to see for years and that is what motivated most of us customizers back in the day, it was for me anyway.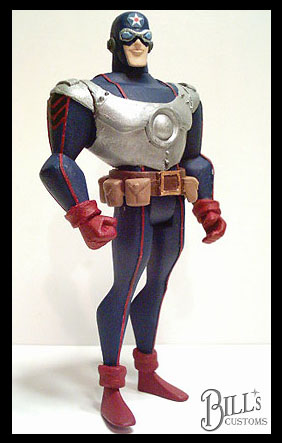 You've been around long enough to see changes in the customizing hobby (personnel, attitudes, technology). What changes have you perceived?
The level of skill in customizing over the last 10 years has improved tremendously. There are sooo many more customizers now and a ton of different styles and mediums that I can't keep up with it. What I am amazed by is how many different versions of one character are made. I saw one site where a guy had over fifteen versions of Deadpool, but hey if that is what motivates you to keep on customizing, more power to you my friend!
I can't really comment on attitudes since I'm not really part of any forums, but I am aware that there are a lot of them out there and very specialized on some sites.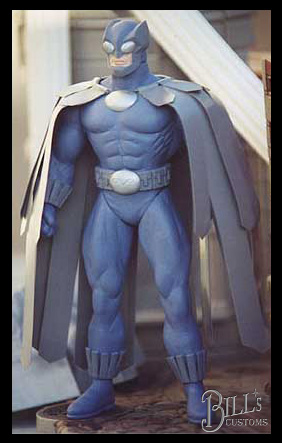 What challenges, if any, do you want to tackle in regards to customs? (Techniques? Characters? Styles? Etc.)
I have always wanted to get a mannequin and make a life size character custom, but then again there seemed to be a creepy factor to that so I shelved it for now.
The challenges seem to come with whatever character I tackle, be it creating things like chainmail textures, sculpting masks, helmets, boots, etc.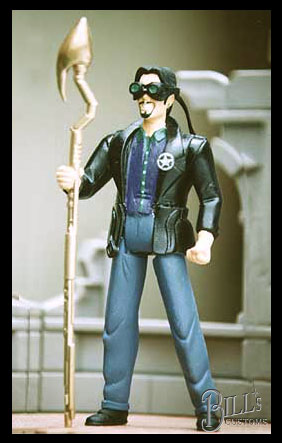 Do you have a dedicated workspace? What's it like?
Yes I do, it's a big fold out craft cabinet that turns into a table with shelves and drawers. It's perfect for customizing and my other projects. It weighs a ton.
Your gallery site was recently revamped to better reflect your multitude of interests, including art and historical reenactments. Do these different worlds ever collide? (Do all your reenactment buddies want figures of themselves as cowboys?)
It's happened a couple of times. I designed and produced one of my reenactment group's websites as well as their collateral.
I did a Wild West Spiderman custom for a contest in Wizard magazine which was a blast to create
A couple of years ago one of my reenactment buddies wanted a wedding cake topper of him and his bride holding a shotgun on him.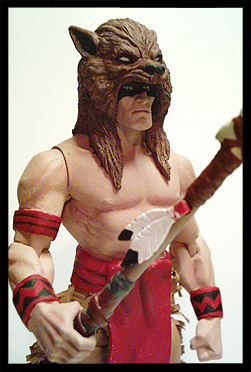 Tell us more about your reenactment activities. How does one get involved in the hobby?
I have been doing Old West reenacting for over 20 years and have done everything from period correct shows to comedy skits.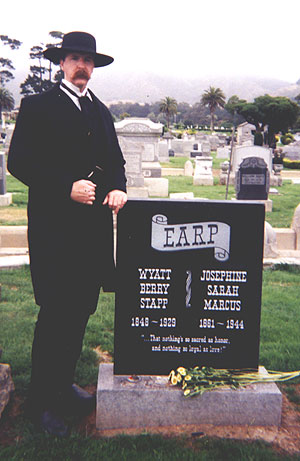 I also portray Wyatt Earp at various events as I have more than a passing resemblance to the man. The hobby has taken me from the OK Corral in Arizona all the way to the Little Big Horn Battlefield in Montana. I have even been on TV a couple of times. (History Channel)
Of everything I have done over the years performing the train robberies is still my favorite, if I could do it as a full time job I would do it in a heartbeat.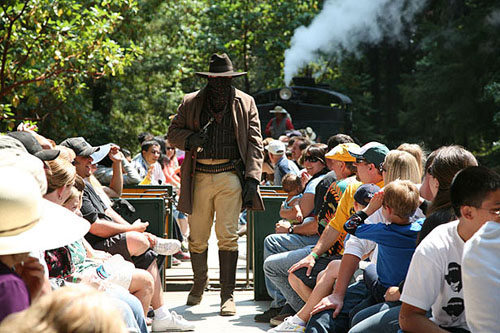 Earlier this year we have been trying different eras, we have gotten into doing World War II and Pirates, it's been a blast…literally.
It's pretty easy to get involved, pick an era, head to the web and find a group in your area. Almost all reenactment groups are extremely friendly and love to have more folks involved.
I know your son often participates in reenactments, both with you and on his own. Does he share your love of toys and customs as well?
The apple fell far from the tree here. Wyatt liked the toys of course when he was little, but never really showed interest in customizing. He really respects and admires what I do, but the kid didn't get artistic gene passed down like I did from my mom. He is a terrific writer though, I have to say.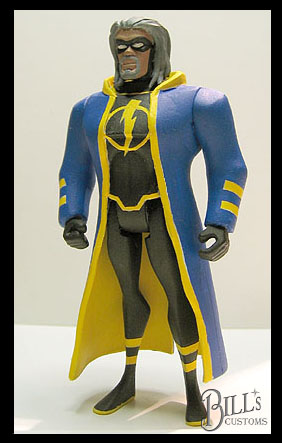 Judging by your site's gallery, you're also a heck of an artist, in a variety of styles and mediums. Do you have a preferred style? What are some of your artistic influences?
I try anything once when it comes to artwork, as you can tell by my site I'm all over the place. I just try to keep it interesting for myself.
Mediums range from acrylic, pastels, inks, puttys, and recently where I work now, a lot of recycled materials, and not because I want or have to, it's just that they have been working for a lot of the projects I do.
I guess I am what you call a 'realist' artist, never had the right frame of mind for abstract work. I studied most of the masters works of course, impressionism as well, but I most admire the art deco-turn of the century type stuff. A lot of what I do in historical reenacting has influenced some of the work I do as well.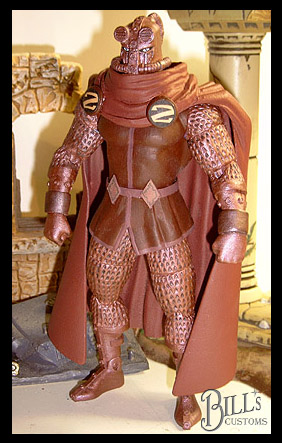 Do you have any other hobbies or interests you'd care to admit to, in addition to customs and reenactments?
I play a lot of volleyball, it's the only sport I was ever moderately good at. I also make some of the greatest chocolate chip cookies this side of the Mississippi.
I have recently gotten into ragtime music as well.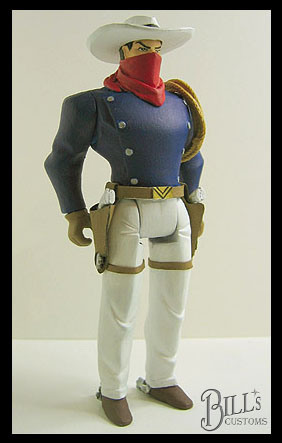 Any final thoughts you'd like to share?
Back in the day we customized because the toy companies didn't or wouldn't do it. I feel it has really changed now and I like to think we all had something to do with that change.
I can't really say if I will continue on with customizing, It's become a cyclical hobby for me for me now, it's pretty evident given my lack of any new customs showing up on my site these days. I like to think the 'Golden Age' of customizing was the late 90's-early 2000s, it was a grand time because customizers all over the world finally found each other with the internet, it wasn't this odd little hobby that most people would not understand anymore, we made a community back then and a lot of those folks I am still friends with today beyond customizing.
I would really like to take the skills I have learned customizing to another level in the industry, be it painting prototypes or just being involved in that process because I know in my heart I could do it, that's the dream job though isn't it?
I do hope the years I have spent customizing have influenced a few folks for the better, the hobby seems to still be flourishing quite well and that's good to see.
Thanks and take care!
About the Author: Casimir
Not satisfied with the limited options available at retail, award-winning customizer Cason Pilliod has been crafting his own toys since he was a child. His passion for toys merges with his background as a theatrical prop designer, allowing him to find unique customizing solutions, which he shares with the ever-growing customizing community via Inanimate Objects. Cason is also an armchair pop-culture historian, Swing dancer, DJ, daddy, and was once a Muppet wrangler, so he's got a unique spin on life. He also worked for Microsoft once, but let's just keep that a secret.