Welcome to the first of many interviews with customizers and artists! In this sub-series, I hope to shed new light on the creative process behind the making of customs and toys. First up, Stew!
First, what's your secret identity? What does Stew do when he's not customizing toys?
I'm basically just a family guy with the usual day-by-day routine and married to a wonderful woman. Playing video games with my lil girl and rough housing with my son. A Batman fan and collector of various batman items, especially Batmobiles. My profession is a graphics separator for a pre-press company that is global. As a graphic technician, I see a lot of product designs before anyone else sees them on the shelves. Dr. Pepper, Coke, Tropicana, cigarette packs and cartons, Reynolds aluminum products just to name a few.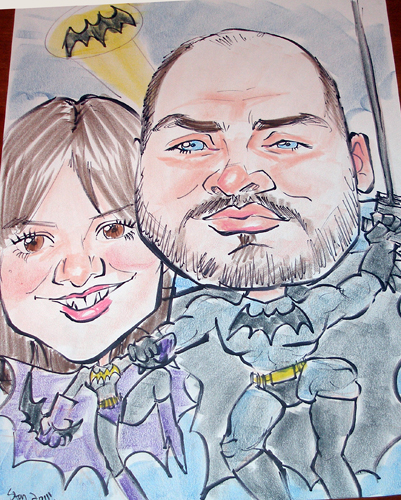 When and how did you start creating customized figures? Who or what was an early influence?
If anything I would guess building model cars was an anchor for it. Having some paint knowledge helped in the transition when I first started to make custom figures. I had no idea that figure customizing had some popularity when I first started. I really liked the justice league figures when they came out because my wife bought me my first JL Batman figure of the style because she watched the JL show with me when it came on TV and I have been collecting various Batman cars and figures for a while. I liked it so much that I went to target to see what else they had of the toy line. Seeing a lot of different characters from the show really got me thinking of how this could become a collectable line for myself and reminded me of the old Super Powers action figures from when I was a kid. So I bought up all the different characters I saw on the pegs and it continued from there on the collecting aspect. Then searching to see what other characters that may be available, I found out that I wasn't the only one doing so. While surfing the net to find what else would be coming to the line, I stumbled across sites belonging to Bill Burns, Iron-Cow and yourself with Inanimate Objects that intrigued me about what was made using the base figures. Continued surfing as time went on and came across some other great works made by Darth Ennis, Great White, 37customs and of course Glassman. That's when I started to get involved with customizing. Seeing such great work, collectors turning customizers, I had to get involved with that. So needless to say, I actually have only been customizing figures for about 5 years now.
You obviously work primarily in the "Timm-verse" animated style. What about that style (in animation and/or toys) appeals to you?
Simple!  The simplicity of the figures' looks in style and how close they are compared to the shows. Not many toy lines are developed that look so similar to their on screen appearance in my opinion, especially at regular retail. Some are great and some are just ok but you have a base to build on if you want to make a few tweaks.
How and when did you develop an interest in molding and casting?
I did a little bit of casting a little time ago when I was into slot car racing. Nothing to write home to mother about though. Seeing the great work that Glassman was doing got me curious. I was having a hard time finding certain figures for the heads to use as a base for what was needed for a custom figure is why I started.  Had several conversations with Glassman on other products that I knew about, and didn't know, about and techniques. Started with a few heads and it continually grew because others were constantly asking if they could buy some. And the rest is history.
Do you prefer sculpting/shaping/assembling a figure or painting the figure? Why?
I like to do them all but the top would be painting because I think that is my strongest point in the customizing hobby. I don't always like what I make sometimes so it requires me to revisit the character sometimes, but most of the time I just move on to something else. My sculpting skills aren't as good as I would like them to be but maybe one day I'll get it better. My biggest part of sculpting I have difficulty with are faces. Some modifications to make it work but from scratch is what I would like to eventually do.
In regards to castings, you've become the go-to guy for other customizers.  How do you mange your time between personal projects, castings and commissions? For that matter, how do you mange your time between "real life" and the hobby?
I wouldn't go as far as a "go to guy" because there are a few others that I consider better than myself. I'm just happy to be able to help everyone from a beginner that's just starting out, to a seasoned customizer that would like to continue the love of JLU with an almost endless selection of character building by providing acceptable parts to work with and give the beginners a start with light workable casting parts to get their feet wet so they can build up their skills to become more confident to tackle more complicated character selections. These are the people that I consider the "Elite" collector.
As for my time, 5 minutes here, 15 minutes there, whenever I get a few moments free to myself. I tend to work in certain increments that allow gradual stopping points. Late at night on the weekends seem to work for me until I get really tired with any part of the 3 happening at the moment, especially painting.
Custom Justice has become the preeminent site for customizers working in the Timm-verse style. What's the history of the site? How did it come about?
CJ started with just a few select customizers for showcasing more than just myself. It was a collaboration between Christophe and myself that created DC Hall of Justice. Chris wanted to expand his Metrotower website to include various news updates along with revamping his archive and I wanted to get a custom gallery started that would house a few select customizers in one section. We created a few main site sections that included CJ but after a short period of time being on the net, we thought we needed a "heart" for the site. So I converted CJ into an open forum for all to enjoy that would compliment the site. A place to openly chat about what's going on with our individual passions of all kinds just for the Collectors, Comic Readers and of course Customizers to show their stuff! I noticed most customizers only used imaging hosts and forums but didn't really have a dedicated place to reside. Hence to the additions to CJ that I put in place like their custom profile they could use for themselves to add info about themselves and a mini gallery to upload to. Something simple that the members could use easily to update and others could get to know them better. I think it turned out to be the best move so far with the site with this change. The site has been evolving ever since then with the biggest of moves back on 08' with a complete graphical and navigation update that included an open gallery for everyone to use and meshed the sites look together like it should have been from the beginning. Script writing was probably my biggest challenge and learning curve with development.
I suspect that maintaining the site has grown beyond what one talented customizer can handle and yet you still have time to make customs. Who helps out?
I am proud to say that Texgnome (Darryl), Jester (Shawn) and Batjack (Jack) have been with me from the beginning of the CJ forum. Tex is the forum Admin since he knows about the forum source from previous experience, Jester is our ongoing Admin for COTW and COTM along with moderating the CJ forum and news updates for DC Hall and Batjack is our Admin for the Gallery, forum moderator and news updater on DC hall. We all do a lot of different little things too. We also have J1H1 (Joel) as an article writer for DC hall. Without these guys helping out, the site may be a little messy. So I would like to publicly thank them for their efforts, advice and time in shaping the site. We all try our best to get info written for DChall but we are only human and real life does take precedence. I just wish I had more dedicated time to get involved like I used to. CJ wouldn't be what it is today without all the great members their. They are the ones that have taken the site to a new level with all kinds of custom creations and dedication to help out the fellow hobbyist from collecting to tips on customizing. It's probably the friendliest forum on the net.
And what about your personal gallery site and store? Did it grow out of Custom Justice or did it exist first?
It basically was something I wanted to do from the start but I wanted to ensure that everything was at a good running point since I did a major overhaul back in 08' to DChall/CJ. That's when I started to play around with something for myself until I came up with something simple and easy for me to update without being time consuming to make just one page. I would love to do something real fancy but no time to really explore. The store was part of the initial core of my gallery site but due to constant update changes, I found myself fixing a little more than needed to when certain plugins conflict and web browsers change. Making it a stand-alone was the solution as you see it today.
You've been around long enough to see changes in the hobby (personnel, attitudes, technology). What changes have you perceived?
Collectors are more in tuned with design than they were early on. Some may take the picking too far but I'm glad they do because the pro customizers listen to that especially when it comes to their own clientele and creates a happy medium for everyone to enjoy and sometimes develops a blue print for everyone else that make customs to follow. It's very impressive and flattering to see others copy your work because it became a blueprint for their custom figure collection.  What impresses me is when I see a true collector starting to take a stab at customizing to fill in the gaps of their own collection. Everyone at CJ is always willing to help them out because it is self-gratifying when you know you did it yourself. I always try to encourage people to at least give it a try before spending money to have someone else do it for you. It's another key to why CJ is the perfect place to get specific info and be a member.
There are so many types of material out there that can help assist and are constantly changing with newer items and an idea for someone to use it. Most customizers I know are open to give up the recipes of what they create because it may just lead to a blue print for many others to follow the design and maybe in variations.
Technology is getting much better with products on the market now. When it comes to casting, the Smooth-on company has an array of products that has made molding and casting better than it used to be. They are always evolving with new stuff. I also think 3D printers are getting closer to a price point that some can afford but still just a little out of reach at the moment for most. Accompanying the printer are various software packages and 3D scanners, sold separately by different companies. It can be a little overwhelming to actually choose what to go with. I think once the creators of the machines set up an all in one package deal, then maybe we will see a bit more of these in the near future being used in the hobby for regular consumers.
A Timm-verse show as we define it hasn't been on the air in years, and now the toy line is about to dry up, presumably for the last time. What kind of impact do you think that will have on our hobby in this style?
It's really hard to say at this point. Maybe once the word from Mattel comes through we may see several give up their collection but I don't think many will because of all the time and money invested into the JLU collection. I still think that it will continue for years through trading with most being new to collecting them. Similar to the Super Powers line but on a larger scale because of the vast selection of characters and the quantity that's  been produced over the past few years. Customizing will probably continue for the JLU style for many years to come due to the fact that sculptors are going with original work and replicating them for the "Elite Collectors" to increase their collection.
What challenges, if any, do you want to tackle in regards to customs? (Techniques? Characters? Styles? Etc.)
My mind wanders with so many ideas. One thing I would like to do later in time would be to create my own figure line style but for now the animated style can be limitless because just about any character, not just DC, can be interpreted into an animated styled figure. I would love to eventually make the entire group of old school Super Friends for myself with my own interpretation. I do have one project and hope to mold it that I need to finish that would be an army builder. (I'll keep that to myself until I'm actually done. ;) )
Is there a "typical" process for figure-creation for you (from idea to finished product)? Or is any such process too organic to be defined?
I actually like to come up with some kind of blue print in my head before I start. Find the parts that look to be what I envision and place them together. Sometimes I'm able to start right away but most of the time I bag them so they stay together for when I do have time to start it. Maybe make the graphics if an emblem is needed and put it along with the parts. Lately I have turned into a duplicator rather than actually creating customs of my own. Providing original figures or original head duplicates supplied by Greatwhite, BottleImp, ClimaxOne, JB Designs and yourself of some great hand crafted sculpts to the Elite customizer has been very gratifying knowing that these guys are giving the helping hand to others building up their personal collection with unique characters. Most of the characters I mold have been a challenge to mold but not all of them. I prefer to take my time during the molding process because the technique of molding is determined by how I perceive the resin casting process might be. Sometimes I goof on style and that is when it needs to be fixed by re-molding. Not everything casted turns out great but my main goal is to at least make it workable by giving a good face value.
Do you have a dedicated workspace? What's it like?
I use to have a dedicated space but I lost that space when my son was born. So now all the creations are done in my kitchen with very limited space to work. This is the main reason why I'm not able to multitask like I use to. So it's either casting, molding or make a custom. My wife goes crazy if I break out a lot at once to do any multi-tasking work. But don't worry; once we buy a new house, a workshop will be in the making. ;)
Any other interesting hobbies you'd like to admit to?
Not really. I have narrowed quite a bit since the start of customizing figures. Unless you consider playing video games a hobby. I do like to do wood working projects around the house that I actually love. Building cabinets, designed shelving, etc.
Any final thoughts you'd like to share?
I would really like to thank everyone, especially the guys and gals at CJ, for the support that has been given to me and to you, the confidence in me to duplicate your work. I can hardly say no to you because if I did, other customizers may get upset with me. Hahaa… your crafting skills for our hobby is the superior force that will keep the "Timm-verse" style alive! I truly believe next year will be a great year to be a customizer ;)
And thanks to Stew for taking time out of his busy schedule to share his thoughts.
About the Author: Casimir
Not satisfied with the limited options available at retail, award-winning customizer Cason Pilliod has been crafting his own toys since he was a child. His passion for toys merges with his background as a theatrical prop designer, allowing him to find unique customizing solutions, which he shares with the ever-growing customizing community via Inanimate Objects. Cason is also an armchair pop-culture historian, Swing dancer, DJ, daddy, and was once a Muppet wrangler, so he's got a unique spin on life. He also worked for Microsoft once, but let's just keep that a secret.