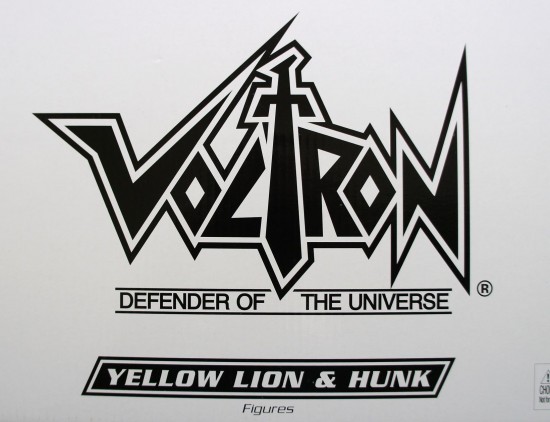 As we race towards Comicon and the sunny shores of San Diego, I am harkened back to this time last year, when just rumors of a gigantic, fully transforming Voltron by Mattel floated through the spring air….
Flash-forward to one year later, and we are already two-fifths of the way to completing this heroic monstrosity!  If you caught our last installment, we were taking a sneak-peek advance look at Lance and his Red Lion.  Today, it's his chunky comrade in arms, Hunk and his trusty Yellow Lion!  Let's go!!!
Offered online only, primarily as part of Mattel's Club Lion Force subscription, the second offering is right around the corner.  Hunk and his Brave Yellow Lion will be available on mattycollector.com on Monday, April 16th.  Thanks to the fine folks at Mattel, we've been allowed the privilege of giving you an early peek.  Needless to say, if you were one of the fine folks who subscribed or purchased one of the few day-of sales (they literally flew out the door!), then you know that the Yellow Lion is a MUST HAVE.
First off, both Hunk and the Yellow Lion arrive together in one very large white mailer box, in typical Matty fashion.  Once opened, you are treated to two separately packaged toys.  Both boxes are sharp and feature crisp graphics with original artwork from the show.
Hunk
Hunk stands taller (and wider!) than Lance, and is a completely new mold.  He features a very accurate likeness of the character, even for this small scale.  He's got a swappable helmeted head with clear flight goggles and unhelmeted head, featuring awesome red 1980's headband.  Also included is a stand which doubles as the key to his lion (more on that in a minute).  Hunk is very well articulated, with ball shoulders, elbows, knees and hips.  He also includes the second piece of the Collect-n-connect electrified blazing sword, as shown on the box.  This piece, the hilt guard, is cleverly designed, and has a built-in hinge to allow the sword to be inserted into the appropriate lion's massive maw.  Once again, Hunk is one of Mattel's very best efforts to date in this scale, and it is my continued hope that these pilots will be offered one day down the road in a gift set for all of those who missed out on them.
The Yellow Lion
The Yellow lion looks to be modeled almost directly from the original artwork.  Looking at his head straight on, everything looks to be completely on-model.  He features the same basic articulation of the Red Lion, only this time his neck can look upward and downward on a ratcheting joint, in order to facilitate the transformation.  His mouth has a "clicky" joint, which allows for the lower jaw to hold several poses, as well as hold the included yellow lion sword, just like the cartoon.  The head also can swivel side to side, giving an already expressive toy even more character.  There is a large rectangular button which pops the legs out and rotates the neck back to its original lion form after transformation.
For those who are inclined to do so, Hunk can actually fit inside the Yellow Lion!  Insert the Key stand included with Lance to open up the port on the lion's back, and the entire cockpit opens up.  Inside we are treated to some nice detailing, with the appropriate screens and controls represented by neatly placed stickers.  Hunk fits snugly inside, and it's a pretty good way to store him and his extra head if you so desire.
First and foremost, I'm reminded that these are just fun toys.  Giant robotic lions that form an even more massive robot hero.  It's like the 80's never left us!  I am holding out hope that once this project is completed that Mattel will next turn their fine efforts towards making a giant Vehicle Force Voltron (Dairugger)!  Until then, this Voltron is shaping up to be one of the very best toys of 2012.  Snag one on Monday before he leaves planet Earth for good!
About the Author: Captain Collector
A veteran member of the toy journalism community for more than ten years, Steve "Captain Collector" Ceragioli has been an avid collector for four decades. Known for his honest reviews and vivid photography, he has written for some of the most prestigious action figure sites on the web. As a collector, Steve can often be found at local retail stores, hunting for the latest releases and meeting fellow collectors. Steve collects many of today's hottest toy lines, and he has a massive collection of vintage toys and knowledge. Cap brings a deep passion for the hobby along with him to AFHub!