Here's a sneak peek at the upcoming Mekaneck ®, Heroic Human Periscope ™ from MattyCollector.com. One of the last remaining core members of the Masters and an essential vintage figure, he is slated to include 2 fully articulated, interchangeable neck segments (each approximately 2″ and 5″) so you can recreate the vintage toy's action feature. Just pop off the head and pop on a long or short neck piece. He'll also include a removable armor and vintage-style mace. He is slotted for release in October.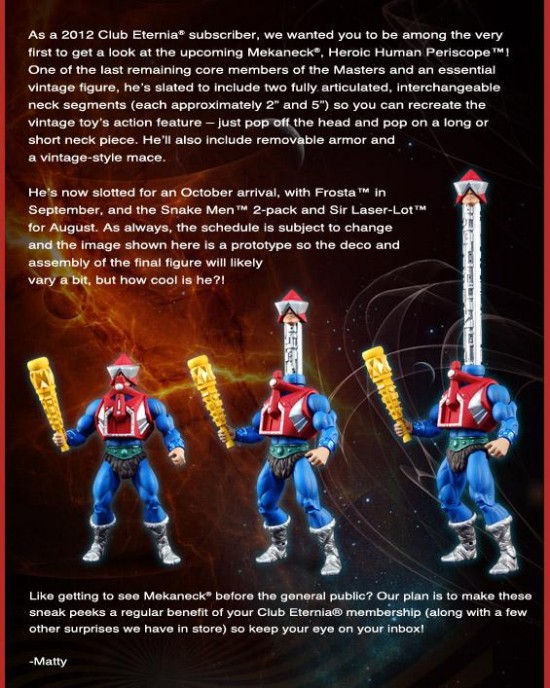 About the Author: Review-Or
Review-Or has been collecting Masters of the Universe action figures since they first became available in the early 80's. He's stuck with He-Man through his lowest points (MeteOrbs, New Adventures, Disco Skeletor, Smash Blade He-Man etc.) and he's happily reaping the rewards of the new golden age in MOTU collecting: Masters of the Universe Classics! When he's not in his dungeon writing about the latest MOTUC news, he's more than likely taking a figure out of the package and finding some cool way to display it! In his off time this mysterious contributor to AFHUB.COM enjoys counting calories and revising his ever-expanding Enemies List!