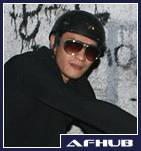 Every so often, you get the rare opportunity of meeting a person who is low-key and unassuming, yet who possesses great talent coupled with depth of character. Noli Coronado is one such person. And I have recently been given that rare opportunity to sit down with the guy and just casually talk about his passions.
For the few who are still unfamiliar with Noli Coronado's work, he is responsible for creating some of the sculptures displayed during the last Philippine Toy Con – one of which is the 8-ft Optimus Prime displayed in the HERO-TV booth. Noli is also fully credited for sculpting the Civil War busts by Dig Deep Entertainment, including Captain America, Thing and Nitro.
Noli assisted in creating the Spider-man and Wolverine busts, also for Dig Deep Entertainment.
The following is the transctipt of my interview with Noli. For the benefit of our international readers, much of the text has been translated to English (our conversation was originally in both English and Tagalog).
AFHUB: Please give us a backgrounder on yourself.
Noli: I'm Noli Coronado :) I'm a biker. A coffee drinker. Sculptor. A designer.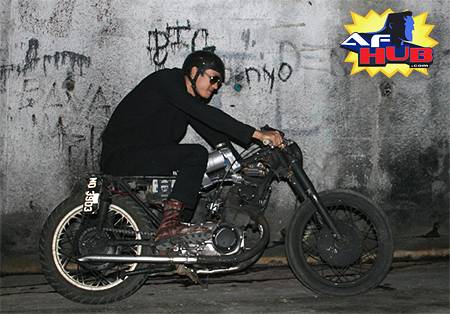 Noli on his 1964 Honda 305 Superhawk.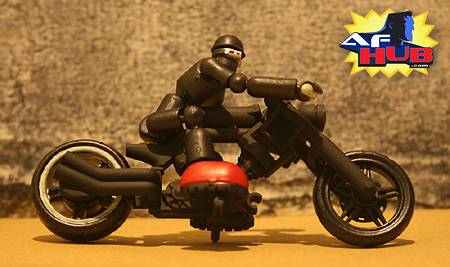 A self-portrait?
AFHUB: Did you take up art or sculpting as part of your education?
Noli: No. Actually, I was planning to, but my parents were not artists. They didn't allow me to take up fine arts because they were not very familiar with what art was about. They thought I might not be able to find work afterwards. They're cool people… They just weren't aware that there are good opportunities available in this field.
AFHUB: So what did you end up taking?
Noli: I took up philosophy. My parents urged me to go into law. But I was thinking, I wanted to be a priest – because what I really wanted at the time was for peace, inner peace. I am a loner, an only child, so it seemed ok to me.
AFHUB: So the amazing work that you do now is pretty much self-taught?
Noli: Yes.
AFHUB: Was this since you were a kid?
Noli: When I first saw clay, I fell in love with it right away. I was around 4 or 5 then. I really started young. But the sculpting of figures, I started doing those when I was in grade school. There's this guy who taught me how to make "sausage man" – are you familiar with that? Before that, I'd make a star-shape out of the clay then bend the top point to make the head and that's how I'd start making figures. Then I was introduced to the sausage man, where you had to make the different parts and stick them together. It was also then that I started to add different colors. I remember saving up my allowance just to be able to purchase clay.
AFHUB: That was your vice then.
Noli: Yes, even up to now. It has become a basic necessity for me – shelter, food and clay.
AFHUB: Where is your base of operations?
Noli: Here (points to his workshop), or the studio (points outside his workshop) or even at Starbucks or other coffee shops. Sometimes I get tired of my cave, so I go out and do my sculpting in a coffee shop.
AFHUB: How long have you been working with Dig Deep Entertainment?
Noli: About a year and a half now.
AFHUB: You met Digger (Mesch) at last year's Toy Con? Was he scouting for talents back then?
Noli: Yes. I showed Digger some of my work at the Toy Con, we exchanged numbers and then.. yeah I guess that's how we got started.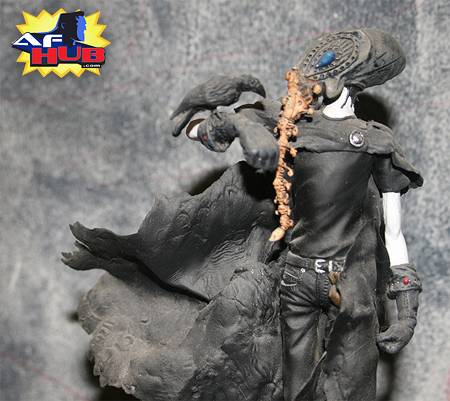 This is Noli's rendition of Neil Gaiman's Sandman –
the piece that won him a spot with Digger's team.
Click for bigger picture.
AFHUB: What was your first project with Dig Deep Entertainment?
Noli: Civil War, you know, those busts. My first project was Captain
America. That's how Digger is, that's how trusting he is with people, I guess. He just met me, hung out with me for 2 days, and then handed me the main character for my first assignment.
AFHUB: How long did you work on your first project?
Noli: He (Digger) gave me 2 weeks to do it but I took me about 4 weeks to finish it. That was my first official sculpting job with them.
AFHUB: What is it like working with an industry legend like Digger?
Noli: When you're with Digger, it's just like being with a brother. You don't really feel the "legend" when you're with him. He's really down to earth. So they (Digger and Yuri of Dig Deep) are like family. Being an only child, I don't have real brothers so I guess they are kinda like my brothers.
AFHUB: Have you worked with other studios aside from Dig Deep Entertainment?
Noli: I do freelance work. I've done work for local TV stations like ABS-CBN. Before I also had the opportunity to work with Whilce Portacio for Stone. But the statues didn't push through. He got sick and had to go back to the States, so it never pushed through. But I got to work for him for like a year.
AFHUB: What was it like working with Whilce Portacio?
Noli: We were trying to venture into the toys and statues arena. But Whilce was more at home with comics and did not know much about toys back then. So it didn't really take off.
AFHUB: What project are you currently working on?
Noli: Right now, it's break time. I just finished doing a line of busts for the Civil War and also the Marvel Zombies series.
AFHUB: Among those projects you've worked on, which one would you consider your personal favorite?
Noli: I have this one figure (picks up a small figure from his work table). He's not really anybody. When I was growing up, I always had a figure inside my pocket. And each time there was a new cartoon show or comic book and no toys were produced based on their characters, I'd paint the figure (based on those characters). I knew nothing about using the right paint or water-based paint back then. I once had a figure that was made from plastic, eventually it became brittle. Finally, the figure got ruined. That figure is still what motivates me to create my own action figures. I have since been trying to replace that figure that I ruined, always looking for existing toys that had its likeness but I still can't find one.
In college, I asked around and consulted some students of dentistry about the material they use for dentures. It was around that time that I began making figures out of plastic cards, pins and the self-cure solution used by dentists. So from there, I revived that old toy that I had as a kid, though it didn't look exactly the same as before. What I had before was brown, what I have now is black – an updated version.
Being nocturnal and a loner, I considered that toy to be my close friend. Whenever I have free time, I still continue to upgrade it . This is my latest version (points to figure on the work table). I always carry it with me wherever I go. This is my favorite toy of all time.

Noli's favorite toy. See how small it is?
Yet the details are uncanny.
AFHUB: Is it because it dates all the way back to your childhood?
Noli: Not really. I guess it's because I've developed a special bond with it and consider it a close friend. A lot of my real friends have told me that it's probably not healthy. You'll sometimes see me in a coffee shop with this next to me.
AFHUB: Will this particular piece be finished anytime soon or will it continue to be a work in progress?
Noli: It's a work in progress. It has gone through so many phases. It started off with 5 points of articulation using pins and phone cards. Then I searched for more durable materials. I would buy existing toys just to get the articulation. And as time goes by, it evolves. I have been wearing black for the past 12 years, so I made him wear black as well. If and when I decide to change my color, I might also change his.
AFHUB: So it's like a mirror figure of yourself?
Noli: In a way. Although I don't consider him to be me. He is his own character.
AFHUB: What would you consider to be the hardest part in your line of work?
Noli: What I'm doing now is a dream job, so all of this is actually easy. I've been working on these since I was a kid – playing with these, actually. The hardest part is the deadline. I have no problems if I don't make it on time. But then, brothers are counting on you. Like Digger is the one in front of the client so he's the one facing the challenge if I don't make the deadline. That is the hardest part for me.
AFHUB: What is your choice material for sculpting?
Noli: For toys, I prefer durable materials. So I use rubber or plastic – which I "steal" from existing toys. But for prototypes, I use wax. It depends on the project. It's quite complicated, but it's wax and Sculpey – those two are best.
AFHUB: Is there a particular character that you want to sculpt but have not been given the chance to?
Noli: There are many. Daredevil. Hellboy. Buddy (Four Eyes) of Six String Samurai. Equilibrium (John Preston). Madman. I like indie characters.
AFHUB: Who has had the biggest influence on your work?
Noli: As a kid, the sculptors that have influenced me are: Caedo, a national artist. There's one sculpture upstairs, that was made by Caedo. Solomon Saprid – he's the one who made "Taming the Tikbalang" – the one near ShoeMart years ago. If you recall when we were kids, there was a metal sculpture besides ShoeMart of a Tikbalang with Bernardo Carpio yanking out its hair. I like sculpting Tikbalangs, too.
AFHUB: Do you have a collection of action figures or statues?
Noli: No (shaking his head and smiling). I buy them for my personal customizing projects. Phantom here (points to a Phantom figure on his work table) was made from (ML) Bullseye. I buy stuff, but I don't really buy them for the character that they are on the shelves. I buy them as blank figures for customizing them into my own toys.
AFHUB: Who's your favorite super hero?
Noli: From comics, it's probably Daredevil. He's the most balanced super hero for me. He is inherently good inside, but his outer image is the devil. He doesn't depend on anything – unlike Batman who depends on his belt and gadgets. I like Batman. But he seems to have some weaknesses – like he's too good – and there's Robin who is always taken hostage. Daredevil seems to be solid – he doesn't have any weakness – except maybe for Elektra. And his arch enemy (Bullseye) is stronger than him. Plus I am deaf in one ear, so I can relate to his being handicapped. I also like the fact that he is not as commercially popular like the other heroes such as Wolverine and Spider-man. He is a graceful fighter – also always alone – and horny (referring to the horn on his forehead – laughs).
AFHUB: Clich̩ closing question Рwhat sort of advise can you give beginners who might want to follow in your footsteps?
Noli: This is what I tell people – if it's meant to be yours, then it'll be yours. If they want to be sculptors and sculpting is meant for them, then nothing can stop them. There is nothing else I can say to them. It would be useless to advise them on something they already have. Now what I could probably just offer them (because I never had the benefit of having a mentor teach me what I know now) is that should they need my help, they are welcome to come to me.
Following the interview, I was treated to a front seat view of some of Noli's stuff. Here are a few photos of what was on the work bench.
SANDMAN – according to Noli, this is the piece that won him his spot with Digger's team. Notice the signatures on the base of the figure? Those are Neil Gaiman's and Noli's. If you get the chance to meet Noli in person, ask him to tell you the story behind those signatures :-)
ZERO – the latest incarnation of Noli's favorite toy.
PHANTOM – check out the sculpted ring on his hand, bearing in mind that this is only a 6-inch figure.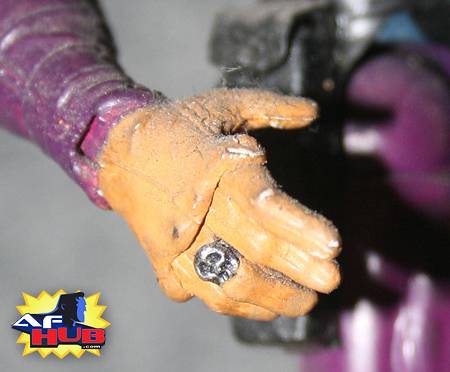 BATMAN – this is my personal favorite. This is Noli's rendition of Batman based on Simon Bisley 's art as he appeared in the book Judgement on Gotham, the crossover title with Judge Dredd.
What is truly amazing about this piece of work is the cape – made only from the blister pack of some Marvel Legends figure, which was formed with the aid of a heating gun.
One of these days, I'm gonna have to grovel and beg Noli to give that to me for Christmas.
Credits:
A big thank-you to Digger Mesch – for putting me in touch with Noli, who is one of the most interesting persons I have had the pleasure of interviewing.
Special thanks also to Sharon Atillo, who is responsible for some of the photos used in this article – which includes shots of Noli Coronado himself, Batman, The Phantom, Sandman, and Zero (that remarkable mini figure).