From http://diamondselecttoys.com/
Last week we brought you news that Thor would be joining the ranks of the Marvel Select line, but that wasn't enough for the Asgardian God of Thunder! Taken from the legendary J. Michael Straczynski's new Thor series, this Marvel mainstay is ready to make his triumphant debut!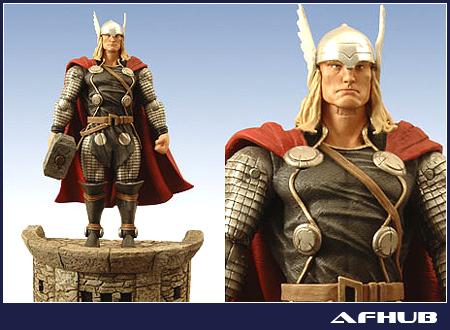 The Mighty Thor sports the new chain-mail costume designed for his latest ongoing series, which chronicles the iconic hero's struggles to rebuild Asgard on Earth – eight feet above Oklahoma! With over 14 points of articulation and a deluxe Asgard base, not even Loki himself can stop this legendary god as he battles a new era of enemies and deals with the fallout of Civil War, World War Hulk and more!
Sculpted by Gentle Giant, this is one hero you can't pass up! Look for the Mighty Thor in stores next March and don't forget to pick up the Marvel Select Zombie Spider-Man shipping later this week and the Colonel America arriving next week!