The Return of the King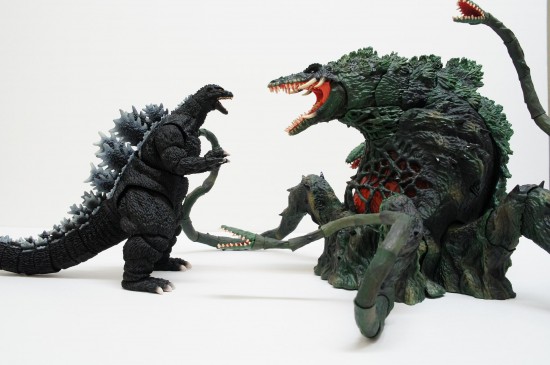 Unless you have not been paying attention to Legendary's marketing efforts, you already know – it's Godzilla week! The long awaited return of the King of Monsters to American cinema has everyone abuzz, and if early reviews are any indication, it's good enough to wash away even the faint aftertaste from that 1998 abomination. As with any new Godzilla movie, there's bound to be merchandise, so today we're going to take a look at some of the latest releases.
S.H. Monsterarts Mothra
Newly released this week is the long awaited Monsterarts version of Mothra (1992 version). Mothra features a shocking amount of articulation, with each segment of the thorax a separate piece, each antenna and mandible a ball joint, two stage wings, and even four points of articulation on each leg. Mothra includes a special display stand with allow for a wide range of possibilities. Her eyes are rendered with clear blue pates over a textured compound pattern, and look great. She's shown here with her darker cousin, Battra, and her mortal enemy, Godzilla himself. Masterfully sculpted by Yuji Sakai, I expect she'll be a fairly quick sell out. As a side note, Tamashii Nations has announced last week that all previous releases have been sold through, so what's out there is what's out there. If you're thinking of picking up any of these, act fast, as secondary market values tend to rise quickly on these. I get all of mine from Toy Arena, because their prices are fair and they ship out immediately, something I really appreciate!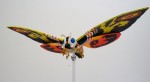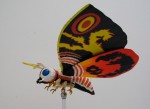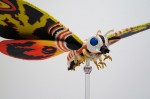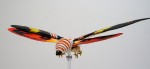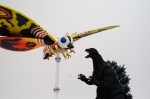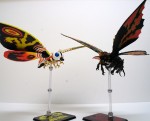 S.H. Monsterarts Battra
Battra may have started out as an evil cousin of Mothra, but by the end of the film, the two winged creatures team up to vanquish Godzilla, costing Battra his life in the process. Battra Also includes a similar stand to Mothra, and all of the necessary articulation. Battra features several clear parts, such as his eyes, horns, and spikes, just like the film prop. Again sculpted by the master Yuji Sakai, Battra was a web exclusive in Japan, so he is disappearing quickly!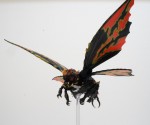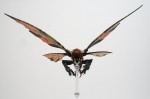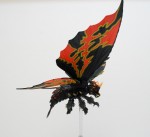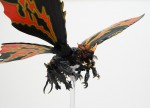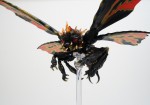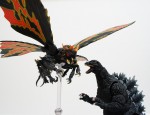 S.H. Monsterarts Biollante
This is the big one, the one we were all waiting for! Biollante is the largest (and most expensive) figure in the line, and also features the most articulation of any of them. Biollante also has the distinction of being the first figure in the set to feature light up action! Her belly core has a two stage light which you can switch from the normal state orange to agitated red (batteries not included). Biollante features a shocking large amount of articulation for what is basically a rooted plant. This violent vegetable has a great system of ball jointed segments making up her "neck". This neck can be shifted on a sliding joint from front to back, which changes her aspect and profile. A special flap above the core hinges in to place to cover up any gap this reconfiguration could leave behind. Each tentacle also features a ball joint every few inches. Biollante isn't made in to toy form very often, and when they have, they always end up being rare and expensive. Biollante is another figure in this line you shouldn't sleep on!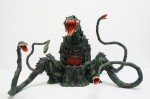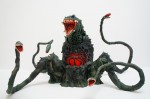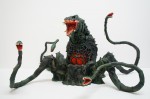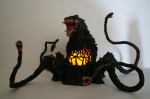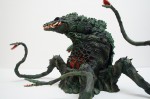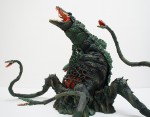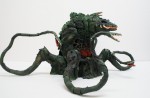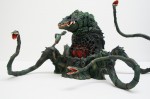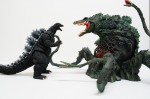 Jakks Large scale Godzilla
When it comes to the new film, several companies are throwing their hat in to the ring. Bandai US, NECA, and Jakks all have their own unique offerings. For when size matters (and when we're talking Godzilla, it definitely does!), you want the Jakks large scale figure. Coming in at just under two feet tall and a whopping 40 inches long, you can't get much bigger. For a large scale Jakks figure (they make Star Wars, Power Rangers and others in large scale format), the detail and paint are surprisingly accurate. Add in a generous amount of articulation, and for the retail price of $40-$50 (depending on location), he's a really good deal. Here are a few pics of mine on the shelf.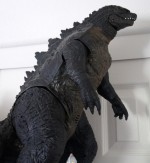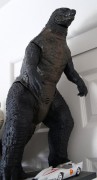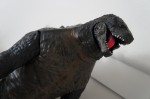 Last but not least, here's a sneak peek of the upcoming Y-MSF 6" vinyl Sanda (the brown one) from War of the Gargantuas. I actually know a little more than I can say at this point, but let me tell you, he's definitely coming, and the production numbers will be VERY small. I'll keep everyone posted on this project as it develops. Sanda is expected to be available for preorder soon at places like Tempting Collectibles, so keep an eye out for him and Gaira in the near future!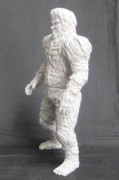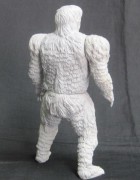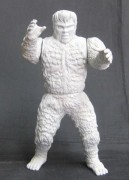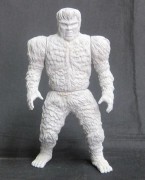 All samples reviewed were purchased by the reviewer from Toy Arena
About the Author: Captain Collector
A veteran member of the toy journalism community for more than ten years, Steve "Captain Collector" Ceragioli has been an avid collector for four decades. Known for his honest reviews and vivid photography, he has written for some of the most prestigious action figure sites on the web. As a collector, Steve can often be found at local retail stores, hunting for the latest releases and meeting fellow collectors. Steve collects many of today's hottest toy lines, and he has a massive collection of vintage toys and knowledge. Cap brings a deep passion for the hobby along with him to AFHub!