Minimates! The line that just won't die! How many years has it been now? 12? That's impressive by any toy line's standard. In recent years Diamond Select has expanded into Minimate-scaled vehicles. Let's take a look at a few.
Most Minimates are licensed properties, but Diamond has been developing their own brands lately. The M.A.X.-Tech Stealth Jet is such a unique item.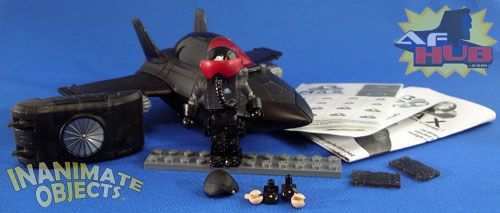 The included figure features a protective pilot's uniform. (Didn't I see that helmet on a Batman Minimate years ago?) Alternate hands, feet, and hair are included. He packs quite a punch for such a tiny little guy! He also comes with a harness that can be turned into a jetpack when the jet's wings are popped off and re-attached to the harness. That really expands the play value. The jet itself is a simple but fun toy. Two figures can fit inside. If more than one jet is available, the wings, body, and harness can be reconfigured into a variety of designs. Wheels are found on the bottom side, allowing the jet to roll along a smooth surface. Again, this strikes me as having superior play value for a non-licensed item!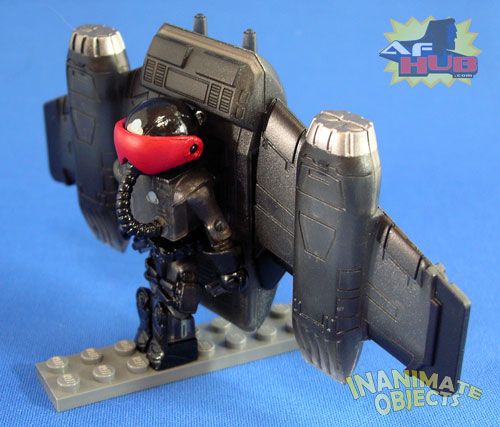 Also from Diamond Select's own imagination is Calico Jack's pirate ship. The included Minimate has the usual high level of detail one would expect. However, Captain Jack's (Really? A more original name couldn't be found?) beard piece looks to me like he's wearing a skinned Ewok. The good Captain looks much better without it.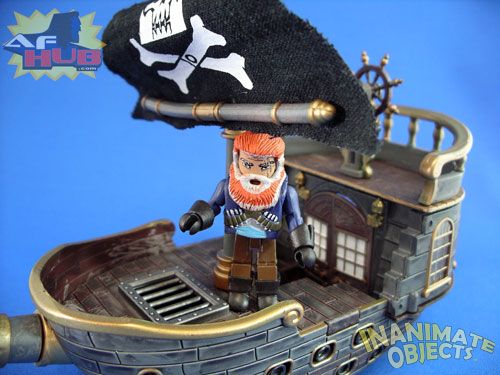 Like the jet fighter, the pirate ship is a fun toy to play with. The deck is open enough to hold several figures. There's a peg on the crow's nest to secure a figure. And the Captain's cabin opens up to reveal his fancy chair. The wheels on the bottom assure smooth sailing. And the square head and jointed bone of the Jolly Roger symbol cracks me up!
I just realized (long after I've put away the camera) that the ship also has a brig in the forward half! It seems Lego Joker and Harley discovered this when they commandeered the ship. Poor Batman is now held prisoner. (According to my fiver-year-old.)
Both of the above passed the five-year-old test for playability. That's a big plus for selling this via Toys R Us.
I've also taken a look at K.A.R.R., the Knight Automated Roving Robot. Full disclosure: I watched some Knight Rider as a kid, but not much. It just didn't stick with me. As a result, I had no idea the character of Michael Knight had an evil double named Garthe Knight, represented here in Minimate form. (I had to Google it.) You can definitely tell that's supposed to be an evil David Hasselhoff, right down to the chest hair. K.A.R.R. is reasonably fun, limited only by the simplistic design of the real car. I mean, it's a car with two doors that open and wheels that roll. What else is it supposed to do? My son didn't mind appropriating it for a "stealth" Batmobile, though.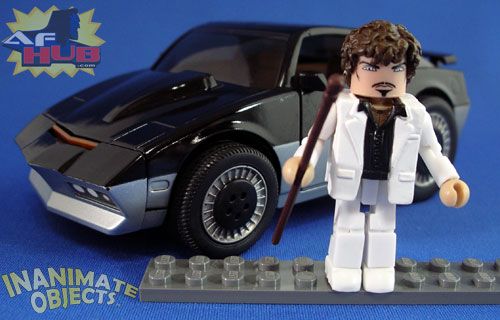 Finally, Doc Brown brings us the famous Delorean time machine in its flying form. The good Doctor is dressed in his yellow shirt from Part 2 (I've long since lost track of how many versions of Back to the Future Minimates have been released). Like K.A.R.R., the Delorean is serviceable enough with two hinged doors, but I was disappointed that the wheels did not fold back into the body of the car. I guess I'm spoiled by my 1/18th die-cast version. Still, the overall package is cute and fun to play with.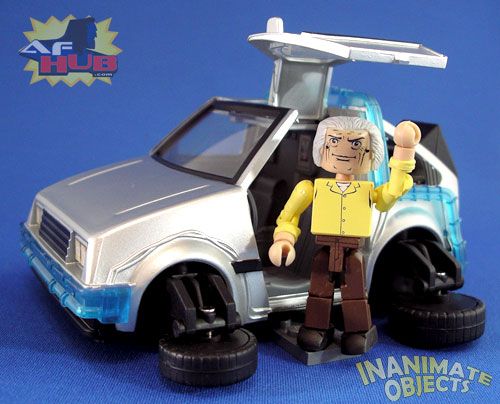 I should mention that the jet, K.A.R.R., and the Delorean all come with stickers to be applied. I didn't use them on the jet, as I felt it didn't need them, but I did apply them to the cars. Good grief, what is Diamond Select thinking! Many of the stickers are meant for the dashboards of the cars. The only access is through the Minimate-sized doors. I'm a customizer with special tools and years of experience working with tiny things, and I could barely get the stickers where they were supposed to be. There's no way the average parent can do so. (And the Delorean's instructions failed to locate sticker #9. I think it goes under the Flux Capacitor.) Diamond Select needs to rethink the sticker process.
Overall, these four sets represent simple, basic fun for kinds, and can be nice set pieces for collectors. And Minimates show no sign of slowing down. Why not hop on (or back on) the Minimate train?
About the Author: Casimir
Not satisfied with the limited options available at retail, award-winning customizer Cason Pilliod has been crafting his own toys since he was a child. His passion for toys merges with his background as a theatrical prop designer, allowing him to find unique customizing solutions, which he shares with the ever-growing customizing community via Inanimate Objects. Cason is also an armchair pop-culture historian, Swing dancer, DJ, daddy, and was once a Muppet wrangler, so he's got a unique spin on life. He also worked for Microsoft once, but let's just keep that a secret.