It's been awhile since I had some Marvel Select figures in hand for any purpose other than customizing fodder. As a result, I'm really impressed with how far they've come in terms of quality and play value. There's a lot to like about the recent Marvel Select movie Spider-Man and movie Hawkeye. But there is room for improvement. Let's take a closer look, shall we?
I should start by saying I've seen the new Spidey flick, and I felt it was far better than it had any business being. Maybe not "X-Men: First Class" good, but my expectations for a reboot were far exceeded. That being said, I am not at all crazy about the new costume. It's change for the sake of change, without improving on much of anything. (More on that in a moment.) So I'll do my best to separate my opinion of the costume design from the toy.
Generally speaking, I'm impressed with the Spidey figure. All the parts are unique sculpts, and in this day and age, that has to be appreciated. The sculpt itself is excellent, and follows all the lines and texture of the costume. The articulation is above par, certainly better than something like Mattel's DC offerings. And yet, I would have liked to see a little more range or a few additional joints. Try as I might, I could not pose Spidey in any dynamic web-swinging poses. I seem to recall being able to do that with some early Marvel Legends ten years ago.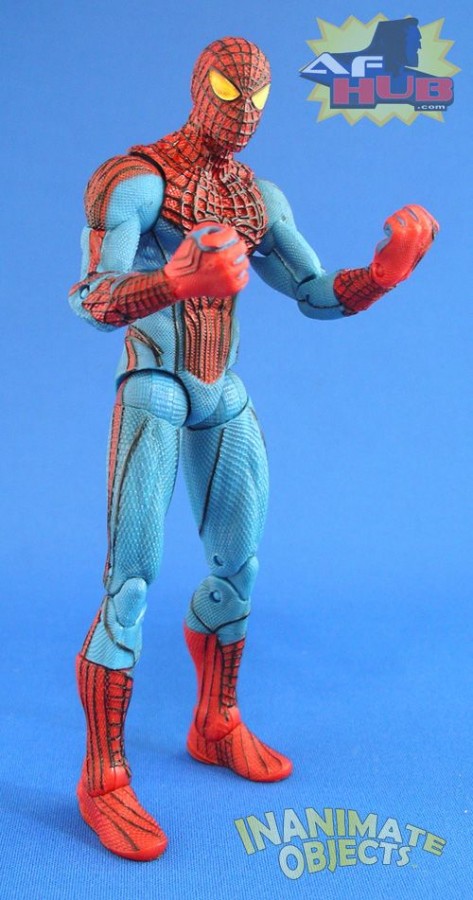 His paint applications are excellent. Every web line is followed with clean, black paint. (Though I feel there are too many black line, resulting in a visual mess, but that's the movie designer's fault, not the toy). The eyes, however, are painted far too yellow. A quick Google search of movie images shows a slight yellow tint to the eyes, but not this almost-burnt-orange color.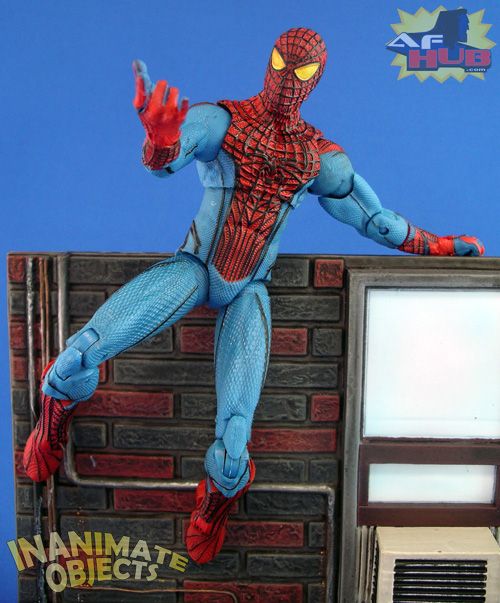 The one thing I really do like about the new costume design is the fact the web shooters are seen on the outside of his wrists. Finally! I'm happy to say the web shooters are part of this figure's sculpt, but sadly, they aren't painted. I'm sure that extra application of silver was cut to control costs. I guess I can fix that myself.
Spidey's accessories include a pair of closed fists. These and the web-shooting hands easily pop on and off. None of that "oh dear God, did I break it?" feeling. He also comes with a portion of an exterior wall, designed to hang on a real wall. These types of mini-dioramas are usually part of a Marvel Select package. Sometimes, they're amazing, like Spider-Woman's Hydra agents. But this wall left me hanging. (See what I did there?) It's so plain, drab and… short. It features two pegs from which Spidey can hang, but I couldn't manage much in the way of dynamic poses.
Hawkeye features a similar mix of good and "could be improved." I don't claim to have the details of his outfit memorized, but it looks reasonably accurate to me, and the details are sharp and crisp. The articulation matches Spidey, meaning better than average, but not near good enough for a dramatic "I'm aiming my bow" pose. That I can forgive. Where Hawkeye really fails, though, is his head sculpt. Maybe the folks at Marvel Select are more accustomed to rendering drawn comic-book characters in 3-D, which can be relatively forgiving compared to real people. Whatever the reason, this guy looks very little like Jeremy Renner to me. The face is off, and the hair is a completely different cut that what's seen on screen.
I'm pleased to say the paint applications are excellent. The edges are clean and smooth, and I don't see much to nit-pick about.
Hawkeye's accessories include a bow, an arrow, and a balcony base. The bow and arrow are both decent enough, and feature paint of their own, which is always a pleasant surprise. I wish the bow had a string, though. I assume the base is a screen-inspired balcony railing. Much like Spidey's base, the balcony doesn't do much for me. Hawkeye can't do much but stand in front of it. However, the balcony is clearly designed to connect to another piece. I know the upcoming Chitauri figure comes with a similar balcony. Maybe the balcony pieces will be more impressive when connected. UPDATE: Yes, the separate balcony pieces will connect!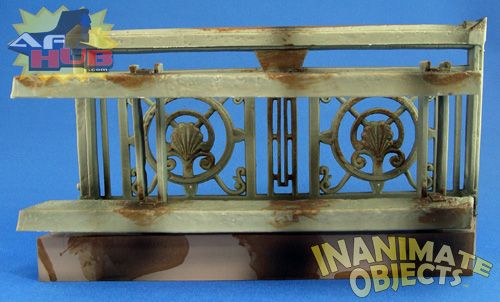 What really got my attention, though, was the over all quality, especially when compared to DC Collectibles. When I open a DC Collectibles figure, I'm scared some piece will immediately break off, or something with snap when I first position a limb. Handling these Marvel Selects resulted in no such fear. These fellas are far more durable. (Not that I recommend giving them to pre-schoolers or anything.) Add in the bases, and the value score is clearly in favor of Marvel Select.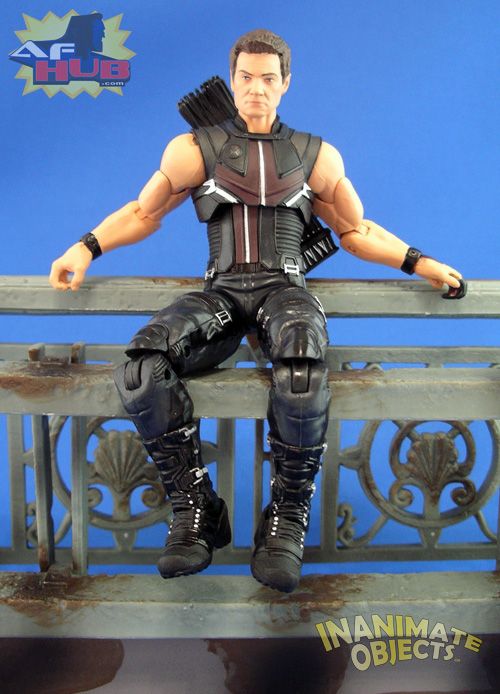 Despite my criticisms of what are ultimately minor issues, I would not hesitate to recommend these to any collector or enthusiast who is also a fan of the movies.
About the Author: Casimir
Not satisfied with the limited options available at retail, award-winning customizer Cason Pilliod has been crafting his own toys since he was a child. His passion for toys merges with his background as a theatrical prop designer, allowing him to find unique customizing solutions, which he shares with the ever-growing customizing community via Inanimate Objects. Cason is also an armchair pop-culture historian, Swing dancer, DJ, daddy, and was once a Muppet wrangler, so he's got a unique spin on life. He also worked for Microsoft once, but let's just keep that a secret.