We just came across the sad news of comic writer and animation producer Dwayne McDuffie's passing. Our deepest sympathies go out to his family and friends.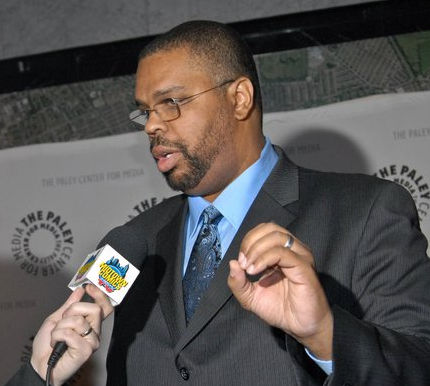 Photo was taken from Mr. McDuffie's Facebook page.
The following is excerpted from dwaynemcduffie.com
Dwayne McDuffie is best known as the co-founder and creator of Milestone Media. He is a Story Editor on the KIDS WB's Emmy Award-winning animated series STATIC SHOCK, which he co-created. He is also a Producer and Story Editor on Cartoon Network's JUSTICE LEAGUE. He is Editor-In-Chief of Milestone Media's award-winning line of comic books, managing an editorial operation which boasted the best on-time delivery record in the industry for nearly four years running and has also worked as an editor for Marvel Comics and Harvey Entertainment. As a writer, Dwayne has created or co-created more than a dozen series, including DAMAGE CONTROL, DEATHLOK II, ICON, STATIC, XOMBI, THE ROAD TO HELL and HARDWARE. He has written stories for dozens of other comics, including, SPIDER-MAN, BATMAN: LEGENDS OF THE DARK KNIGHT, THE TICK, CAPTAIN MARVEL, AVENGERS SPOTLIGHT, BACK TO THE FUTURE, HELLRAISER, ULTRAMAN, (The Artist Formerly Known As) PRINCE and X-O MANOWAR.